Home
»
Toys
The State of the Toy Business 2014: Hey, Is That a Cliff?
This is the latest kick in the teeth to the toy business …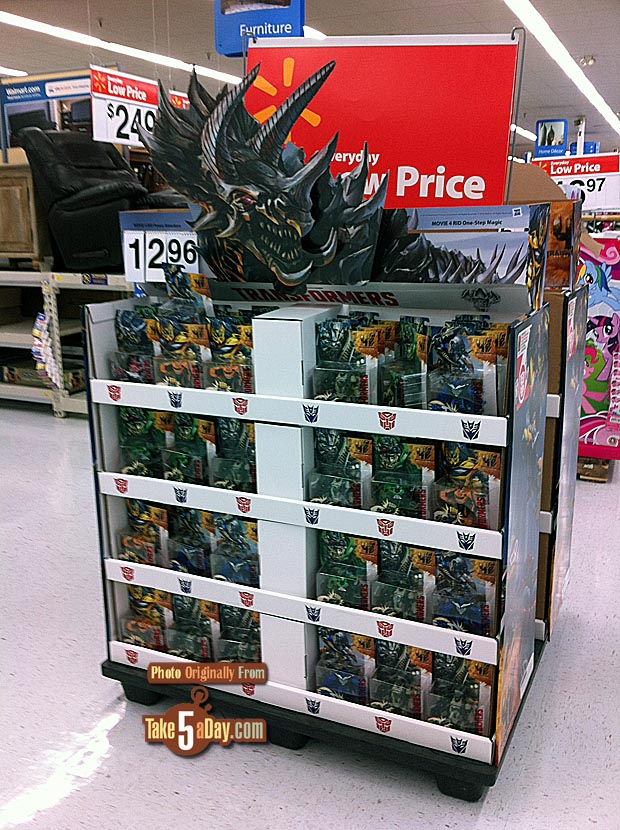 While Transformers, the movie is doing fine – the toys are stacked to the gills and selling at a slow pace. Basically, the toy business is like the movie business now. If you don't have blank pegs by the time the movie opens, the toy line is pretty much a done deal.
And if you can't sell Transformer toys with a giant movie opening, you cannot sell toys.
AND if you can't sell trucks or robots that change into dinosaurs, there is big trouble in toyland.
The #1 licensed toy line in America usually generates about $400-$500 million in sales a year. No, real surprise, Star Wars has been pretty much #1 since 1977 … though sporadically, other lines have broken through to take the crown including Ninja Turtles, Spiderman, and of course Transformers. CARS was a solid #2 in 2007-2009 and came close but never could close than last $50-$75 million to overtake Star Wars. Mattel had high hope for CARS 2 but everyone here knows what happened there … Planes did well but I doubt it broke $100 million in the US, a solid surprise hit but not Star Wars territory.
At the rate the toys are selling, Transformers might still crack $225 million which is a lot but when you create inventory to sell $500 million dollars worth of toys? That's not so good – plus all the 2nd and 3rd waves they were expecting to sell. So, get ready for some massive markdowns and serious re-packing … so wait for the sales and markdowns (and pick up the wave #2 & #3 releases for sales stock as they won't get as much distribution).  🙂
Last year, toy sales were down 9% in the US which is obviously not good BUT the worse news is if you took out LEGO, toy sales are down 17%!
The toy business is like the video game business 5 to 10 years ago, their business model were built on spending $10-$20 million to create a huge game but generally able to sell 5-15 million copies of a game at $49 per and having dozens of "blockbusters" a year by piling on the polygons … only the economy took a dive, the demographics changed, and mobile gaming took a big bite so from 5 years ago, times have changed – An A titles cost as much to make but the market has shrunk to a few hits a year … basically the same problem as the toy industry – spending money no longer makes money anymore.
Up until a few years, spending more money on more bells and whistles meant you could charge more – add lights, sounds, and "simple technology" wowed the audience and you could charge a bit more but now, adding lights & sounds jacks the price but do sales increase as much? No. Because we're all jaded … the toy industry can't match what we value anymore or we cannot be dazzled by "simple technology" anymore.
Don't get me wrong, I'm not saying people don't want toys anymore or that there won't be a toy market but the market has splintered to people willing to pay top dollars for amazing sculpts and design and to the MASS MARKET who will pick up some "basics" toys (diecasts, doll, bear, stick, etc, etc …) but not bother with a $49.99 plastic plane when they can just hand over their iphone or ipad.
The problem is the toy industry is now business-built staffing wise and revenue-promissory wise of $49.99 plastic playsets and $59.99 electronic Monopoly … and this summer, with Transformers a non-blockbuster, they may just have driven off a cliff … and with Mattel, things are not very rosy. Monster High has stopped growing, the growth engine that covered a lot of problems. Barbie and Hot Wheels are flat or still slowing … while Planes is doing fine, it's a minor line in the big scheme of things … and of course, CARS is down – real shock to everyone here … right? (psst, small shipments equal small sales).
Mattel was counting on huge growth from their own properties, Max Steel and the strangely named BoomCo, a Nerf competitor of foam darts and arrows … neither seems to have made much of an impression on consumers.
And of course, retailers are going to accelerate the deceleration … one more row of headphones, wifi speakers, ipads and itunes cards are a lot more profitable than Planes MicroDrifters, Max Steel action figures or now apparently Transformers …
So, the next couple years will be very telling. Massive layoffs seem to be coming, what will the toy industry look like in a few years? Can the two giants fix their overhead issues of staffing that does not serve the toy industry as a going concern (more designers, less VP's of computer databases?) Will they have to crash and burn before rising from the ashes? Will they rise from the ashes? Will Disney simply wait for Mattel to collapse before swooping them up at bargain basement prices? Will 3D printing change the dynamics of the toy business? Send $10k for the full report and analyses. 🙂