Home
»
Disney Pixar CARS 3
,
Mattel Disney Pixar Diecast CARS 3
Mattel Disney Pixar CARS 2 Diecast: All Missing Diecasts to Walmart?
When the following CASES got canceled: J, K, L, M, W & Y, there were 26 Lightning McQueen's in those 4 cases. If there were really 60,000 cases made of those 4 (2 were twins) – that means there were about 390,000 Lightning McQueen's sitting in a warehouse. Or for the 8,000 WM's, Targets and TRU's in the US, that's 56 per store. Um, did anyone sit down and do that math? And that's NOT even counting the LM's from CASE V which no retailer ordered …
Walmart has agreed to buy CASES N & P – which we have no idea what's in them, perhaps no one knows as they are still re-packing them. Presumably WM has a calculator and is not taking @98 Lightning McQueen's per store – if Mattel managed to get WM to take 390,000 LM's for their 4,000 stores. I guess in a few weeks we'll know who the better negotiator is.
Of course, the bigger question is which of the NEW CARS originally scheduled for those 4 cases will we get? (not double counting the twin cases).
These should have all been packed in cases already with the Porto Corsa card design in Mattel's warehouse or just about ready to arrive so it's better just to sell them now – WM not only got 6-8 exclusives but probably a nice deal on them also. If Mattel wanted to clear the warehouse, these might be in the mix also …
It might be unlikely but plausible as it might be better just to get rid of them all at once instead of having to offload them to a consolidator but we'll find out soon enough.
As for CASE F, disappeared months ago, 2 of these CARS are definitely NOT on the early 2013 list – maybe summer 2013? So, these are presumably not floating around … the odds of seeing Otis and Alex seem pretty remote.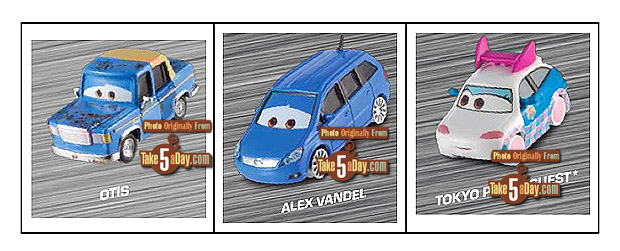 Suki might be the GIRLS CAR ON BRIDGE in Case A … we'll know in 6 weeks or so … so be on the lookout at WM – chime in when the cases/endcap/sidekick or pallet drop appears … don't scoop up all 98 Lightning McQueen's – save some for us! 🙄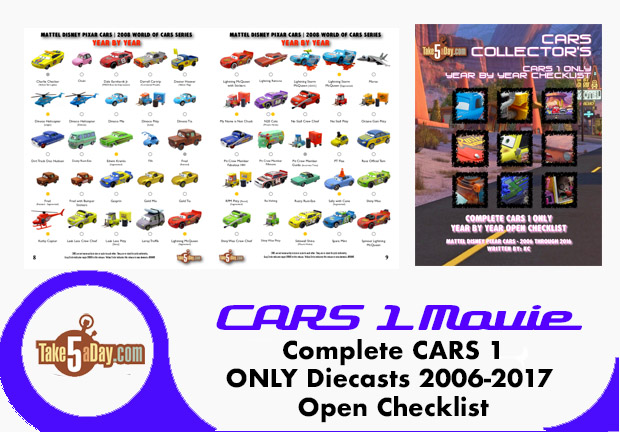 metroxing

9 September 2012

Disney Pixar CARS 3, Mattel Disney Pixar Diecast CARS 3


19 Comments