Home
»
Mattel Disney Pixar CARS
Mattel Disney Pixar Diecast CARS: Chase Visual Checklist (Winter 2009 Update)
In October 2008, Mattel introduced the concept of CHASE CARS to the Disney Pixar diecast line. As with Mattel's Treasure Hunts in the Hot Wheels line, they like to make sure you don't miss out – in this case, each car is clearly marked CHASE.
The concept & usage of "CHASE," could not be much less subtle … they create only a limited number of these and they want you to chase after them.
How limited?
The original plan was 20,000 (since they usually sell @20,000 singles case).
Is this still the current plan?
It's impossible to say because there's no official or even unofficial confirmation. This way, they are not really held to any legal ramifications if they undersell or oversell.
The only other unofficial official word is that once it is released as a CHASE CAR, it will NEVER return as mainline single … we'll get back to this unofficial official clause later.
So, at the end of the day, ALL they promise officially is the card is imprinted with the word CHASE. You can apply as much to that word or as little as you like.
The original note that I saw said production 20k for Lighting McQueen with Stickers and Fred with Stickers.
We can only presume that sales have not changed very much on the wholesale level based on general evidence.
Two points that add to the confusion. Fred with Stickers actually shipped in TWO cases last year – the special Walmart first-ship endcap and CASE 9998 which was shipped only to Kmart for CARS Day 1 so this technically violates the "only one release" rule … AND if only perception-wise, it sure seemed that there were plenty of Fred with Stickers to go around … unlike every other CHASE CAR, there were still some on the shelves well into 2009 but there is no way of verifying any numbers, all we have is "perception."
If Fred with Stickers is perception-wise 20k+, Impound Lightning McQueen leaves no doubt with its second release in 2010 in ALL cases (so another 20k) though this time without the confetti on the blister.
The second is the oddball ordering and shipping going on with mainline CARS hitting the shelves … retailers skipping many cases and suddenly getting 10-15 of a case so CHASE CARS have a perception to some of being in short, short supply but in other cases and to other shoppers, how can anything be a CHASE if I see 15 on the shelf?
At the end of the day, the 20k number seems mostly correct even though at ground level, your local stores might have dozens and dozens or you might be at a store with zilch for months so uneven distribution is creating perception chaos.
And keep in mind, this 20k ONLY applies to the US if it applies at all …
So, ongoing, with trades & eBay, it's clear there is not a massive shortage – just wildly uneven distribution – as prices are relatively stable for all the CHASE CARS – and demand seems to be meeting supply at the correct pricing conjunction after the initial release (and pricing panic – you know who you are 🙂 ).
A few other things to note – again, unofficially Mattel has said that CHASE CARS will not return as mainline singles releases. Here we have "the spirit of the intent" and of course, "the letter of the intent."
In the strictest sense, we will never see Lighting McQueen with Stickers in a mainline release box … but how thin can you slice the spirit or letter of this "rule?"
Can it return as an exclusive? Can it return in a box set? Can it return in a Movie Moment since it is technically not a mainline single? Can it return in Ransburg red on Matty?
???
Because I want to point out that "Rule #3" was that there was going to be no packaging-only CHASE CARS … with Chuki on Japanese card out and Mario and Ferrari F430 on Italian packaging coming … I guess they are like pirate rules, more like guidelines?
Parler!
And after these three, the next three CHASE CARS will be Dinoco McQueen, King & Chick with mini plastic Piston Cups … so I'm presuming the rule of "no return release" will only apply to the CARS and the Piston Cup together … and not automatically to any CAR released as any part of a CHASE nomenclature – otherwise by the strictest sense of "the rule," we will not be seeing any more singles releases of Chuki, Mario Andretti or Ferrari F430?
So, I'm going out on a limb and say – I anticipate Chase cards & weaseling will be doing a jig together at some point in the future.
So, while some of the CHASE CARS may return in some form or another, it might be a while so until it does return, at least you have something that will not automatically get released at the next card design release …
And of course, limited release + time = eBay.
When the issue was first raised of CHASE CARS, I feared the worst but for the most part, it seems to be effective … after all, while we want the Impound CARS, adding another 5 CARS to the checklist with EVERY release just for the plastic boot might've been overkill – this way, you do treasure that they are "limited." I do quibble that a CHASE PACKAGE seems kind of pointless but if it's really just the three we had, it won't kill us or the line and even the three Piston Cups are a fun way to get the three Piston Cups … and soon, the great double Ransburg CHASE CARS so it's not brilliant but it's not bad (the concept, not the CARS).
It wold be nice if they double or tripled up on the CHASE CARS in each box. It would be a win-win for consumers and resellers as it would bring in more lenticular collectors as people would go back to buying cases – and of course, making case resellers happy … and outside of a very tiny percentage of collectors, most people would much rather trade more availability for scarcity.
And yes, it is all confusing now because the non-lenticular CHASE CARS are only available at stores that sell lenticular CARS. And as far as I know, the Target-only Final Lap series – NO CHASE CARS.
Confusing? You betcha.
But just go by the picture 🙂
The WOC Series CHASE: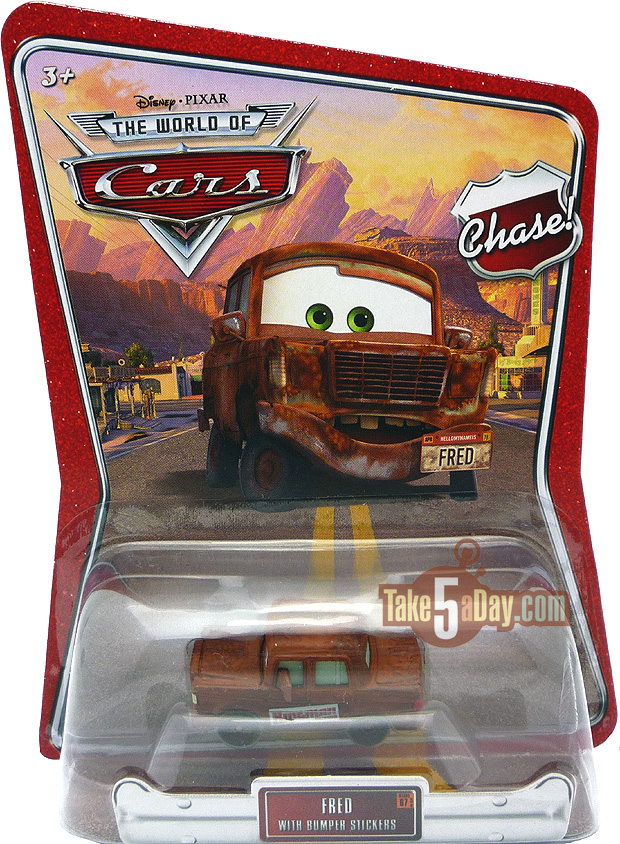 The Race O Rama Series CHASE: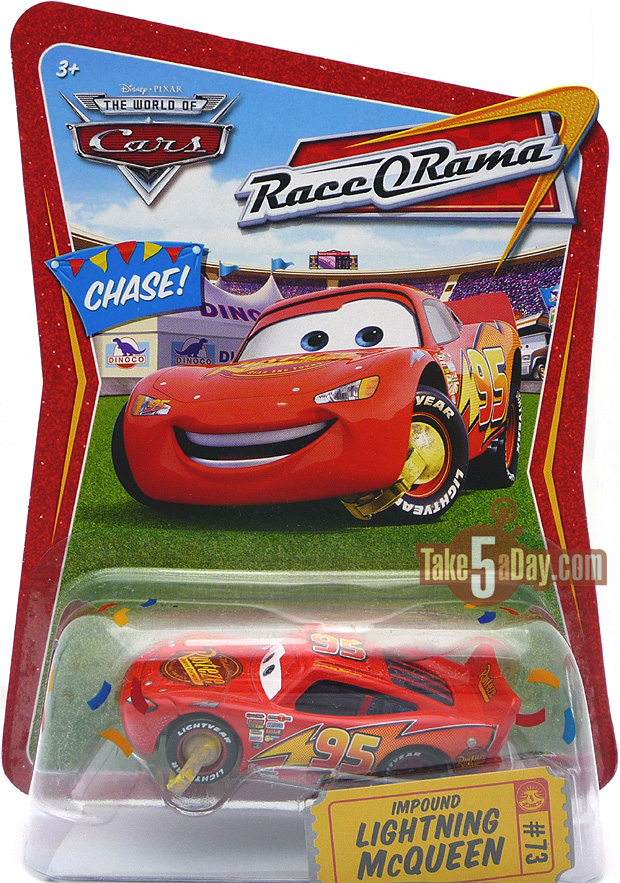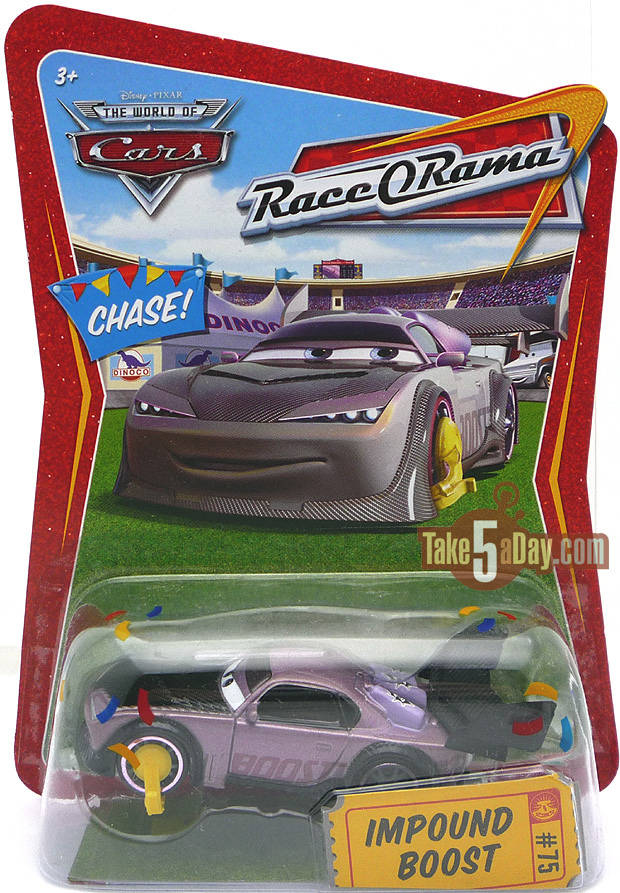 The confetti blister design was met with derision by some decision makers and put on the DO NOT RELEASE THIS WAY plan so midway through the construct of IMPOUND BOOST, it was done away with and subsequent IMPOUND BOOST's were released sans confetti.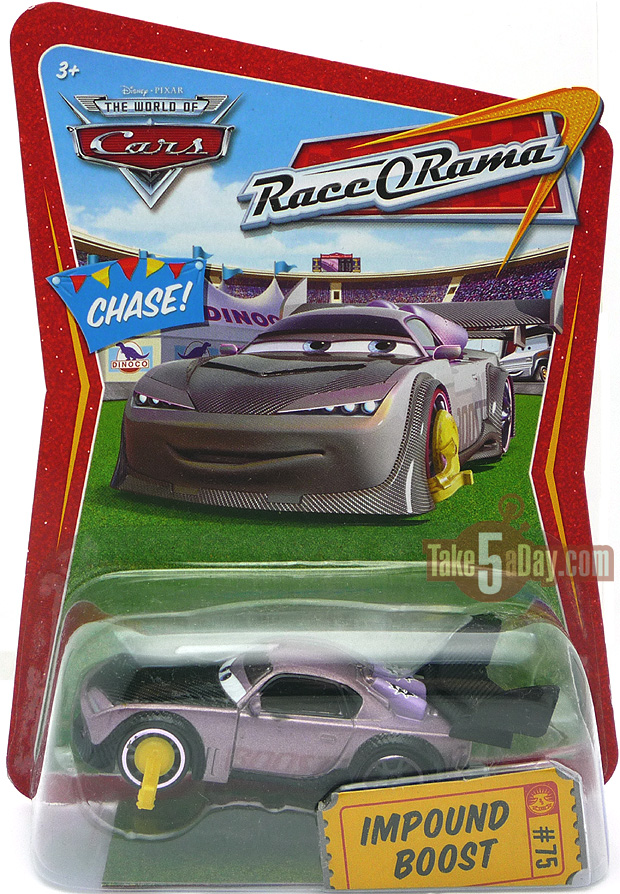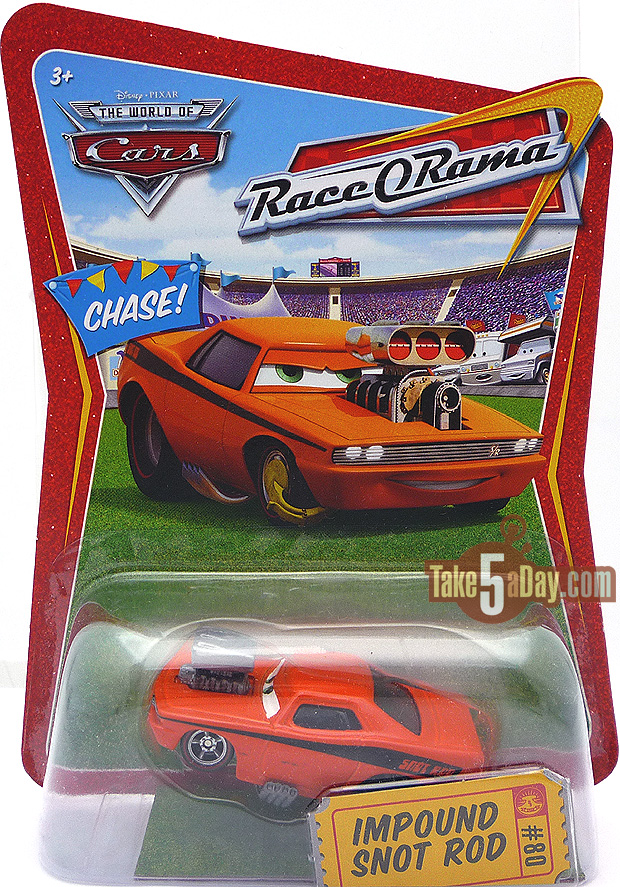 However, some Snot Rod's seem to have escaped the factory WITH confetti also … one note of caution, since it is possible (though unlikely) to lift off a blister from another CAR & card with confetti  and glue it onto a Snot Rod. Again, not likely but for a hundred dollar return on a $3.50 CAR, it is possible so use caution if offered a confetti Snot Rod. If you find it on a shelf or trust the buyer, good for you. Otherwise, proceed with caution.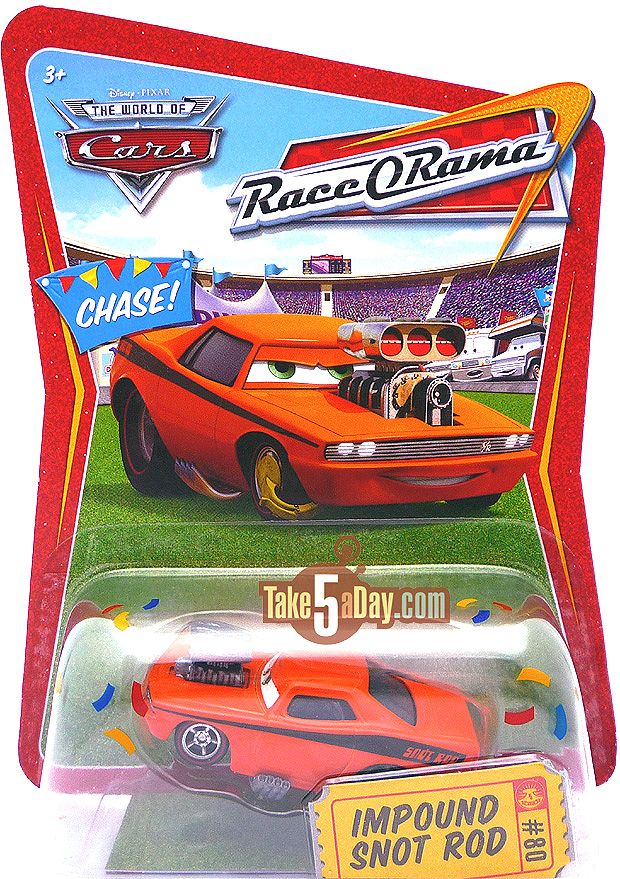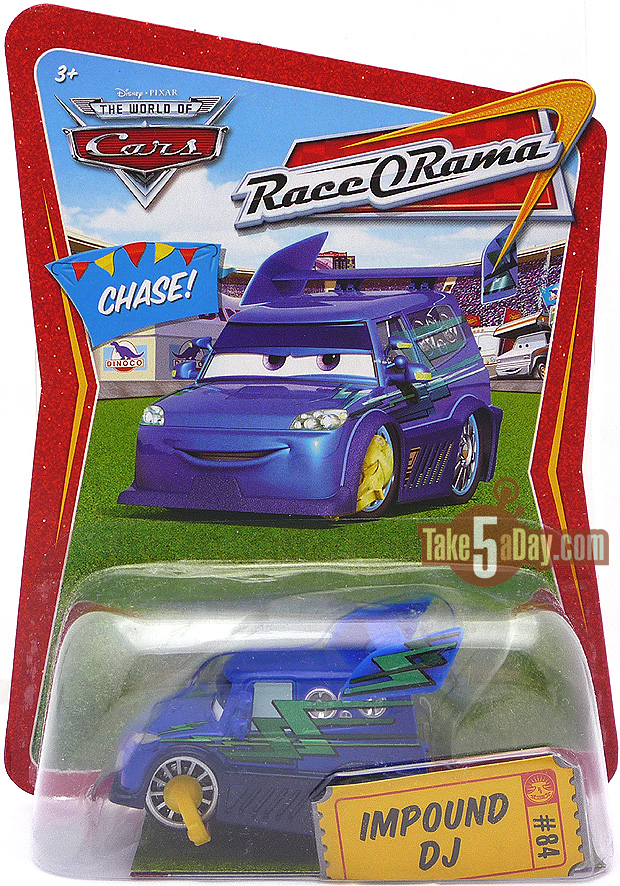 Impound DJ (as noted in this post) features the first appearance of the CORRECT green striping along the side (previous DJ releases were all with an incorrect pale blue striping).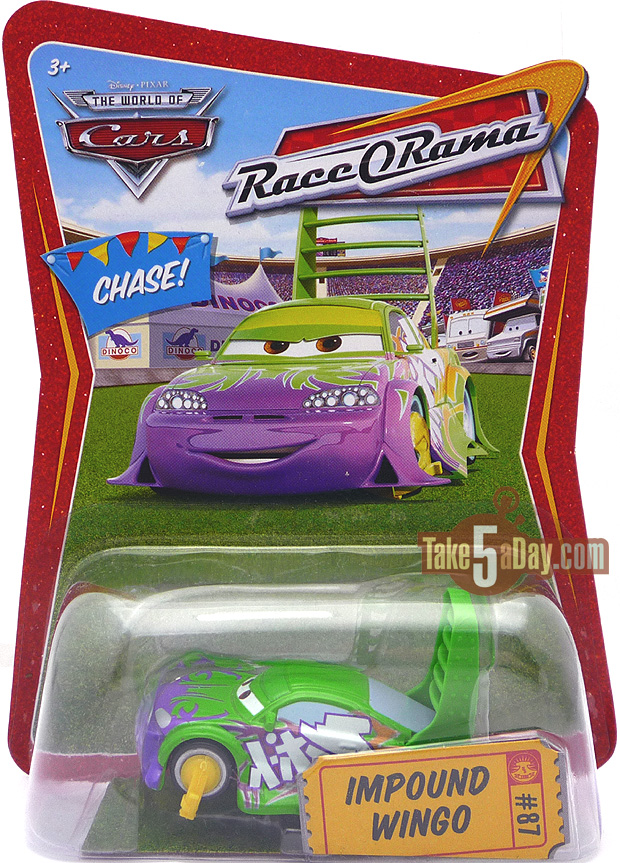 The perception with Impound Wingo is that he is difficult to find. Part of the reason can be attributed to retailer low purchases from Mattel and that there are still thousands of case of CARS in the TRU's warehouse, are there hundreds or thousands of Impound Wingo's there?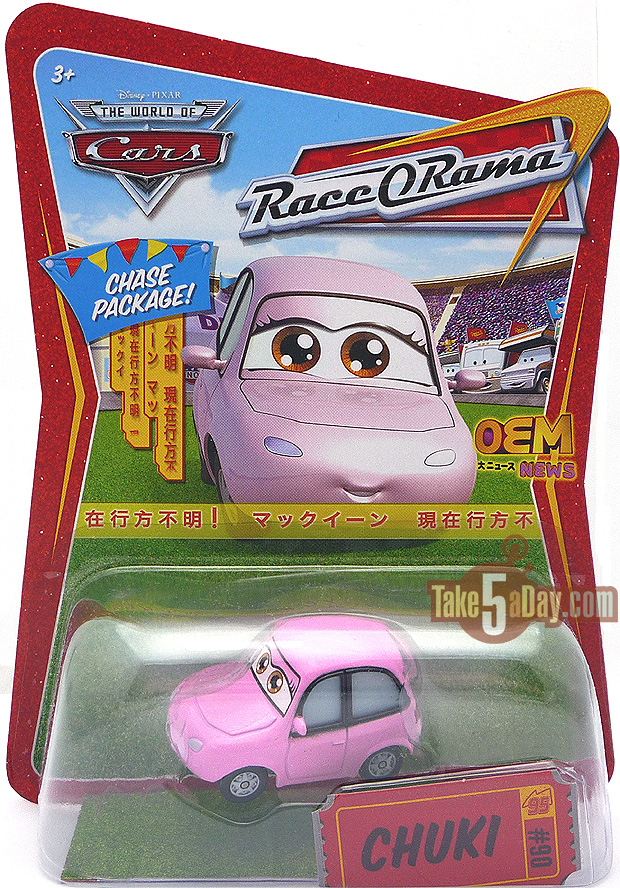 And in a surprise-mistake, Impound Lightning McQueen was re-released in one of the final "standard' sized cards Race O Rama series releases – though this time with NO confetti on the blister bubble.
The last of the 'standard' size cards CHASE CARD is Mario Andretti in Italian packaging and the first correct release of Mario with red rims on the standard sized card in the US.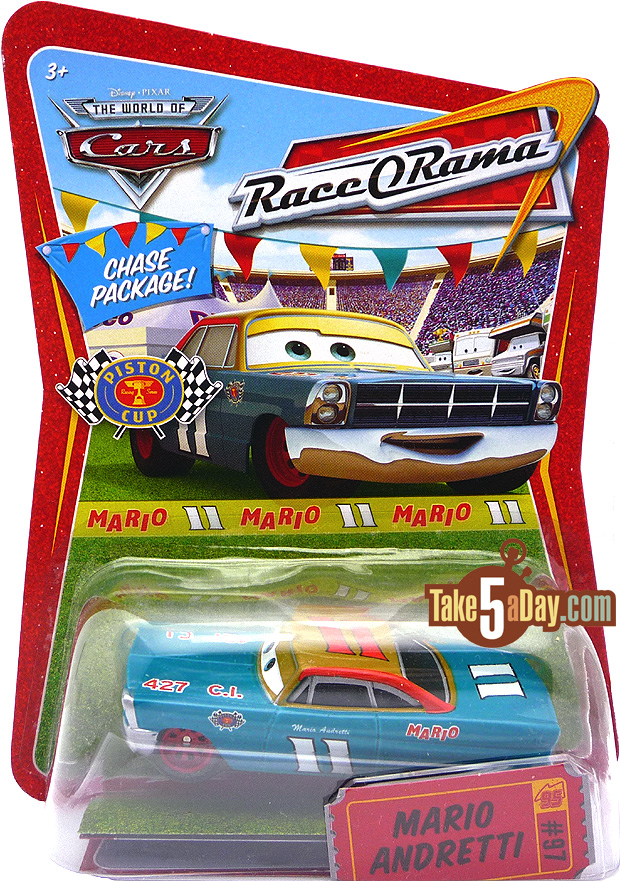 The Race O Rama "Lenticular" Series CHASE: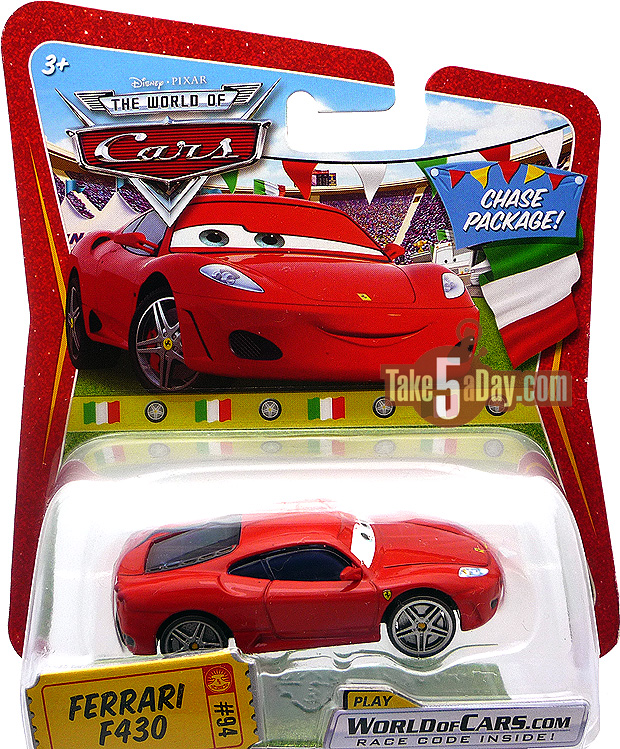 As of now, Ferrari F430 is the last of the "packaging" CHASE CARS.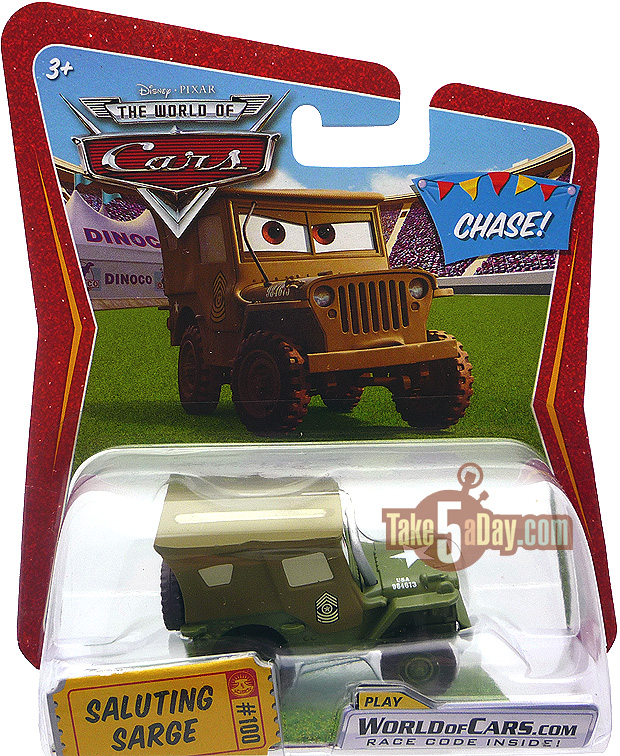 The first return of Sarge after two years – as a CHASE CAR in the form of Salutin' Sarge.
All three of 3 Chase CARS with Piston Cup "trophies" are out though again, technically, the CARS are exactly the same as previous releases – the trophy is the item not to be repeated (in theory). Each tiny Piston Cup is inscribed with the "winner's" name (Lightning, King, Chick).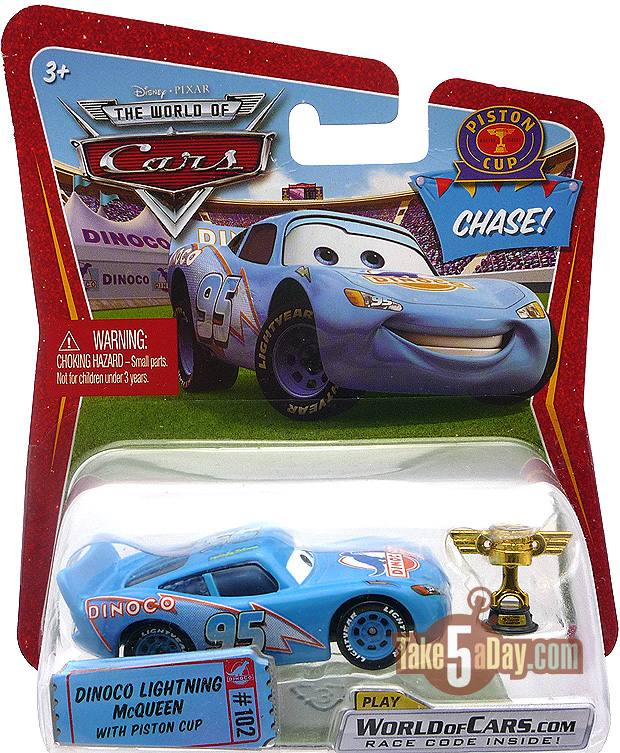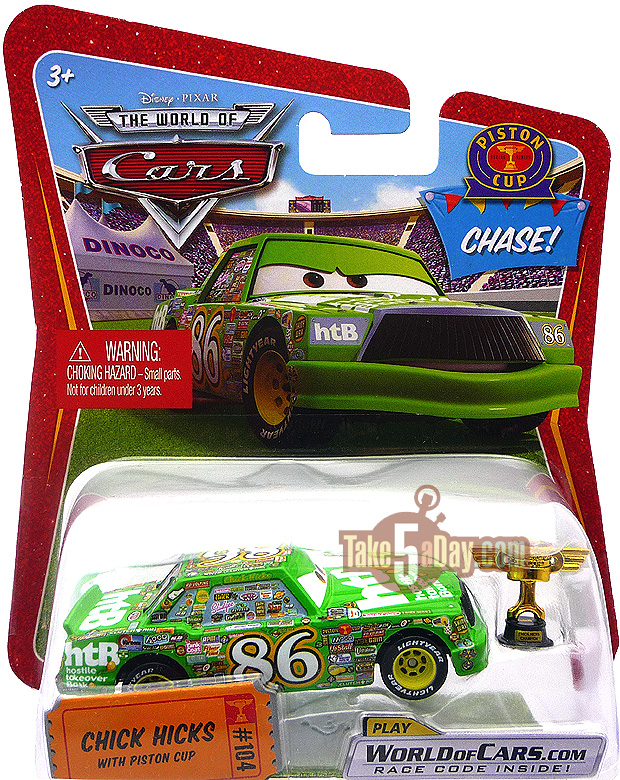 And yes, you can call the Chick Hicks with KING Piston Cup a variant as anywhere from 10-25% of the Chick Hicks seem to come with the incorrect King Piston Cup.
(And after that in order of release …)
The DOUBLE RANSBURG CHASE CARS …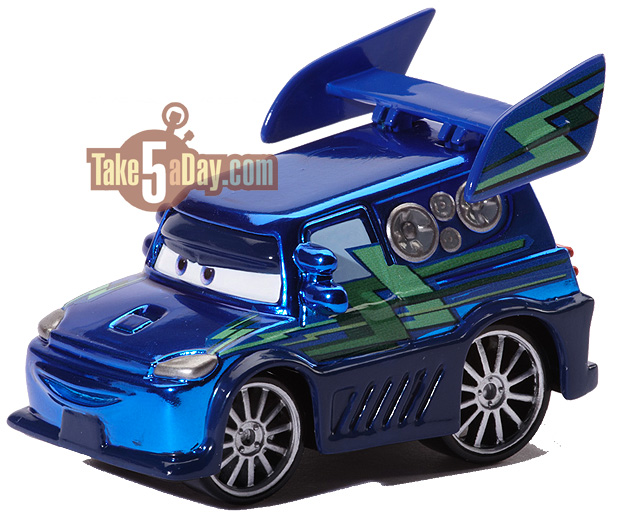 We might not see King Ransburg until early 2010 …
And the CHASE CARS of 2010.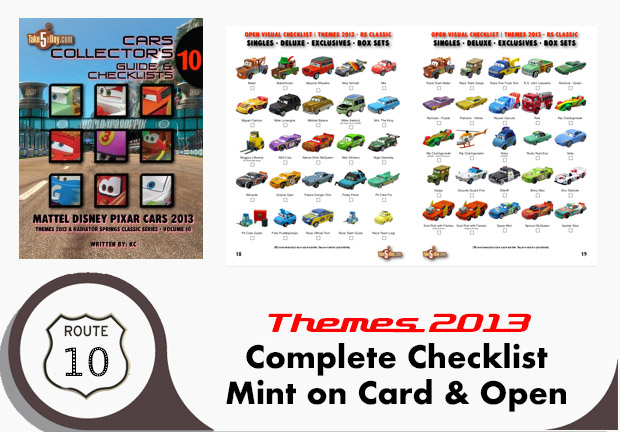 metroxing

13 October 2009

Mattel Disney Pixar CARS


25 Comments