Home
»
Advertising
,
collecting
,
diecast
,
Film
,
Marketing
,
Mattel Disney Pixar CARS
,
Retail
,
Toys
,
TV
Mattel Pixar Diecast CARS: Movie Moments, Some Retired? Or Just Resting?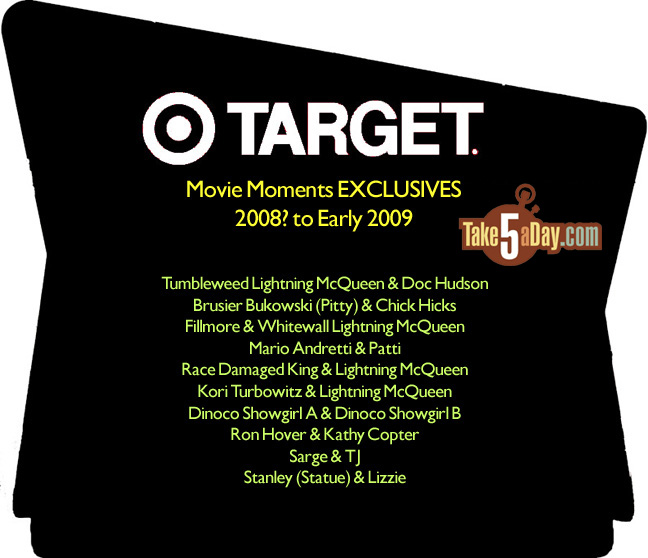 These are the new Movie Moments that will be out soon … sometime in the near future … anyday now … or as soon as Target shelves them? For all we know, they could be sitting in the backroom …
But what's interesting is on the listing of Movie Moments … there are now many previous Movie Moments NOT on the list … does this mean they are CARS "retired?"
By CARS retirement, it means not officially retired, of course, perhaps with public clamor, they could bring them back?
It's not like Mattel is holding a public ceremony and smashing the molds – like the changes & dearth and death of chrome/white rimmed Fabulous Hudson Hornet or Original Size Fred, there is no official announcement, just some back door murmurs … here today, gone tomorrow and like a political putsch during the Cold War, all traces of the previous one redacted … so retired … probably but really, really RETIRED?
So, here's what else is on the list – presumably when Target gets Movie Moments shipments, these will be packed with the list below (and above) – again, no release dates, no case codes, no case pack info, no DCPI, no nothing yet …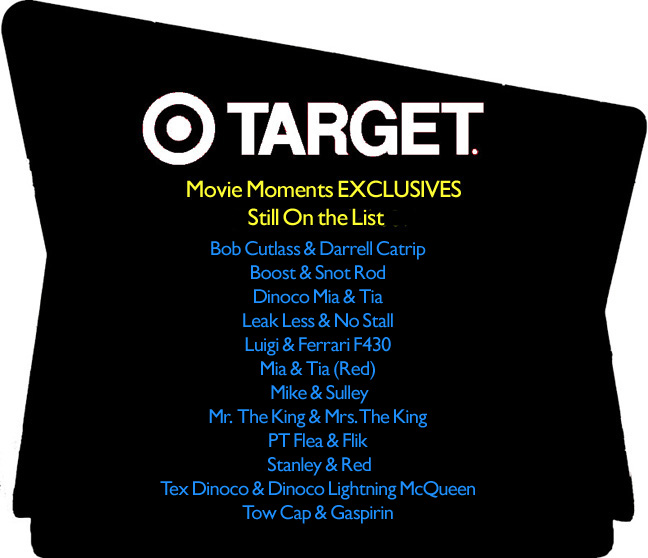 So, that's 22 different 2-pack Movie Moments, probably enough to pack in various configurations to keep Target busy (IF THEY WOULD ONLY BRING THEM OUT OF THE BACK ROOM!)
So, what's not on the list? Who is NOT being invited to the Target big dance?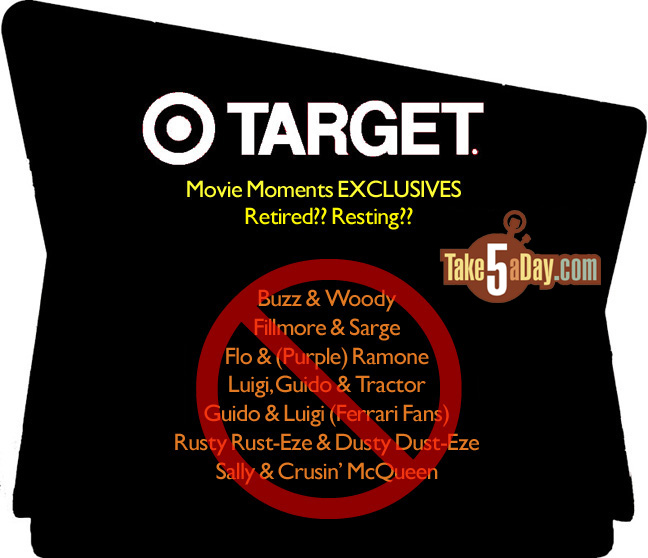 Have we actually seen the first and only release of Buzz & Woody as a Movie Moment?
Sarge is now scheduled with TJ … the only surprise might be Rusty & Dusty being on this list – but they are available in two configurations already at Target (single & 3-pack Storytellers) so maybe they presume that is enough?
Now, I should caution you that this list is probably accurate through April-May of 2009 so while I'm willing to say it's unlikely we will see Buzz & Woody & Rusty & Dusty on Race O Rama Movie Moments card in the next 6 months but afterwards? Anything is possible … enough time has passed where people might want to start buying Buzz & Woody again? Again, I don't know for certain, I'm just alerting and cautioning you at the same time.
So maybe it's not a surprise to see Guido & Luigi (Ferrari Fans) on the list because they are just going on a 6-month hiatus? But if for some reason, you'd been holding off on buying anything on this above list (especially the CARS not available elsewhere), you might consider finally breaking down and making that purchase just in case … who knows, in 2011 when CARS 2 comes out, people might be paying $40 for a Buzz & Woody … 🙂 … and you'll be sorry you walked by Buzz & Woody to buy that PT Flea & Flik, the pegwarmer of 2011 🙂
Photos of the Movie Moments coming (not packaging photos) are HERE.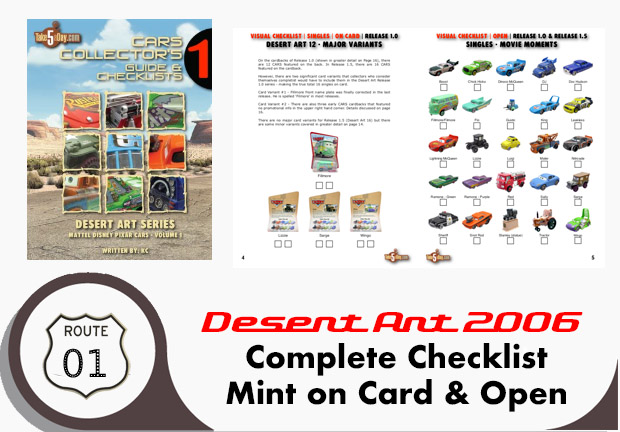 metroxing

2 November 2008

Advertising, collecting, diecast, Film, Marketing, Mattel Disney Pixar CARS, Retail, Toys, TV


22 Comments