Author Profile:
Biography »
Co-Founder of TakeFiveADay and Acmeplex.com
Publications »
Crazy update tweak causing new theme to be used for a bit
Posted in
Uncategorized
on 17 March 2013
Stats: and
7 Comments
Tizmanian here: An update has caused some squirrely things to go on behind the scenes so I am using a new theme for a bit until we can determine what is going on exactly. So if you like it…awesome. If you hate it, send hate mail to Tizmanian…thank you for your patience. Tweet This [...]
Toys R Us CEO Steps Down…Sort Of
Posted in
CARS
,
News
on 15 February 2013
Stats: and
3 Comments
According to Reuters, the CEO of Toys R Us has stepped down but will remain as Chairman. The executive in question, Gerald Storch, is a former Target exec as well. One wonders just how much the poor stocking assortments that have appeared for Cars had to do with the decision. This quote from the Reuters [...]

Snaggle-Squirrel!
Posted in
Squirrel
on 16 November 2012
Stats: and
3 Comments
Just for Friday… I think this falls into that urban lore story that may just be based on fact about how rodents need to constantly chew or their teeth will grow…yikes. I'll blame this dude the next time our server gives us fits. Have a great weekend everyone! Tweet This Post
Cars Bellywashers Giveaway – WINNERS!
Posted in
Uncategorized
on 5 November 2012
Stats: and
7 Comments
Congrats to the following two TakeFive winners in the Bellywasher juice contest: John in Mo Unixed You can read the original post here. Just drop your mailing address to Tizmanian (tizmanian(at)yahoo(dot)com) and I will get the goodies out to you! Thank you for reading and participating here on Take5! Tweet This Post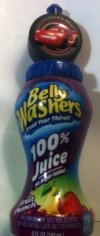 NEW CONTEST – Cars Bellywashers Giveaway
Posted in
CARS
,
Contests
,
Food
on 29 October 2012
Stats: and
13 Comments
Hey there Take5ers! Tizmanian here with a new contest just for fun courtesy of our good friends at In-Zone Brands makers of Belly Washer and Tummy Tickler beverages for kids.      I really like the quality of their products as they are 100% fruit juice with no sugars added and nothing artificial. And the little [...]
Swap Out Cheap Toy From Box At Retail With An Expensive One And Go To Jail
Posted in
News
on 10 September 2012
Stats: and
2 Comments
I stumbled across an old report on ABCNews.com is reporting who two of the geniuses that swap out inexpensive toys from its box and replace it with an expensive ones so they can get a scan of a cheap toy rather than pay for the more expensive one.  Over $2 Million stolen this way. http://abcnews.go.com/blogs/business/2012/08/mom-son-charged-with-2m-toy-thefts/ [...]

New Server Finally Up and Running
Posted in
Uncategorized
on 16 July 2012
Stats: and
16 Comments
Well, we think the squirrels have finally stopped gnawing on the cables and have returned our website back to normal. If you were some of the readers and visitors seeing 500 internal server errors, the short answer is the migration our host completed for us was borked.  It took some time to figure out just [...]
WINNER UPDATE: Who Won The Candy?
Posted in
Uncategorized
on 5 July 2012
Stats: and
10 Comments
Take a gander over at the post that has been updated… WINNER UPDATE:Huzzah! A New Contest To Celebrate Metroxing's 4,000th Post On TakeFiveADay.com Congrats to you…and Metro some $ coming to you soon courtesy of our intrepid readers! – Tizmanian Tweet This Post

WINNER UPDATE:Huzzah! A New Contest To Celebrate Metroxing's 4,000th Post On TakeFiveADay.com
Posted in
Disney Pixar CARS 2
on 1 June 2012
Stats: and
35 Comments
Holy squirrel carcass on a skewer! UPDATE: Too many good choices for me to pick… so… courtesy of Random.org, we have our randomly picked winner (you know we love you all!): MIKE MANIFOLD! Congrats, Mike! Just drop Tizmanian a return email (sent to you a bit ago) with your mailing addy and I'll run to [...]