Home
»
Lego
LEGO Mini-Figure Series 11
LEGO Series 11 Mini-Figures are out.
This looks like a nice series. The Wood Mask Guy is my favorite. Space soldier is nice. Welder is cool. Can't go wrong with Abominable Snowman handing you a popsicle! (Couldn't do the snowcone)

Good that's there's a woman scientist – cool beakers! Gingerbread man – good thing he's smiling, otherwise, it might be creepy gingerbread army man – you could need welder guy to take them out.
Girl robot – nice! Now, it can make out with the boy robot … okay, maybe LEGO doesn't want to hear that …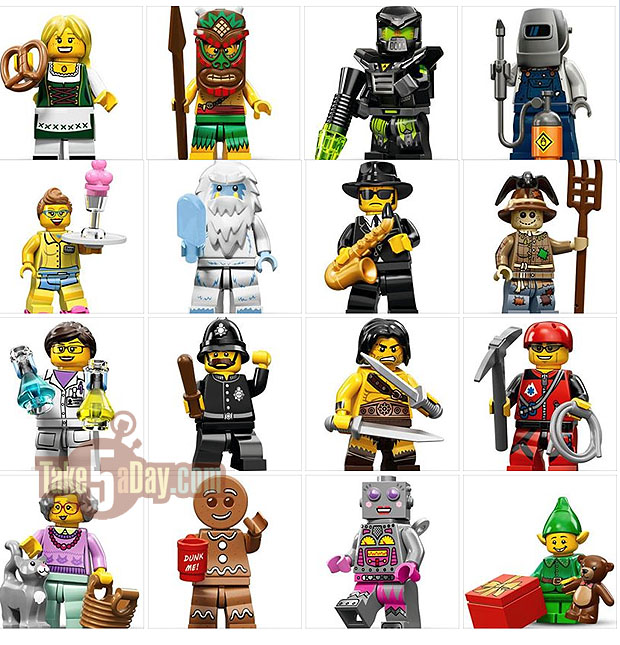 This series does not seem to have a CHASE figure (Mr. Gold Man) which probably annoyed many collectors. Lane Change sends along photos of his find so far – his duplicates look like fun ones to have.  I'm sure I'd have 11 Ms. Cat Lady …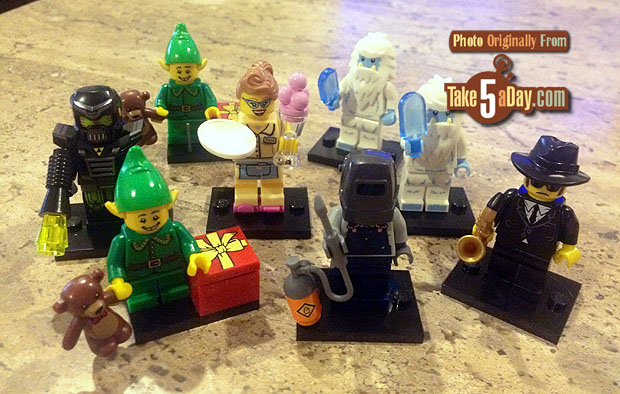 At retail – photo from Wraukn – hard to miss.
Thanks for the great photos, "LaneChange" and "Wraukn."
In case you missed it, there are a couple nice LEGO books – one on just this minifigure series (this book is probably through series 8 or 9?)
LEGO Minifigures – Character Encyclopedia

And a new one coming out next week on the history of the LEGO Mini Figure.
Lego Minifigure Year by Year: Visual History