Home
»
Disney
,
Disney Pixar
,
Disney Pixar CARS 3
,
Mattel Disney Pixar Diecast CARS
Mattel Disney Pixar CARS: Time Travel Mater – Lizzie & Stanley Wedding "Beginnings" Box Sets
The Lizzie & Stanley "Time Travel Mater" box sets will only be available at the Disney Theme Parks (so, yes, phone order or a visit to the Parks yourself or via a proxy).
They are called … "Time Travel Mater" Radiator Springs Beginnings Gift Pack and Wedding Day Gift Pack.
They are for the 1st Anniversary of CARS Land (opened June 15, 2012) so they started showing up in quantity this weekend. Yes, they are released!
"Quercy" & "CARSDriveAllNight" sends these great photos from Disneyland/Cal Adventure.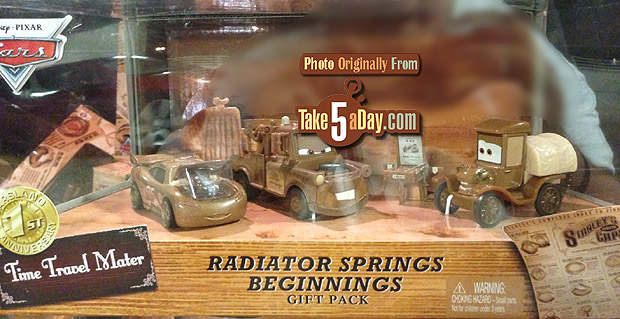 The Radiator Springs Beginnings Gift Pack feature a sepia toned Mater with "time travel clock" over his carburetor, sepia Lightning with open hood (to show he's missing a radiator cap) and sepia salesman Stanley (all brown tinted like in the short). You also get Stanley's little samples kit (plastic).

And yes, you can quibble why the Beginnings 3-pack diecasts are sepia toned when the characters appear sepia toned in the short only because of "color fading" from the film's "age," – and that Lightning, Mater, Stanley or anyone living in the 1930's were not actually sepia toned … but hey, it's too late to argue that now. If you want that box set, they are sepia toned or brown.
The "Wedding Day" set features Lizzie in wedding day white and Stanley in wedding day black (with "tin" cans).
Lizzie's wedding veil is not cloth but clear plastic with printed flowers. I believe it is glued down and not "free flowing."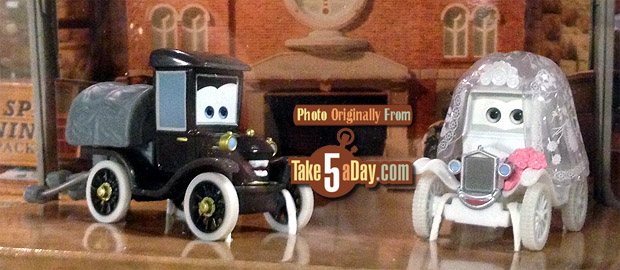 But still very cool.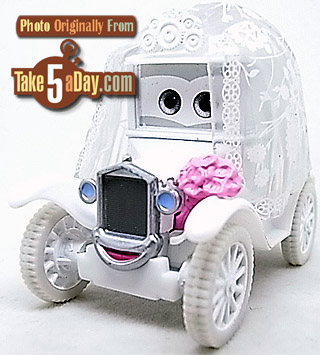 The Wedding 2-pack is $34.95 and the 3-pack is $44.95. Or if you're at the park, that's 3 bottles of water. 🙂 or :-/
Retail ONLY at the Theme Parks.*
For collecting geeks, yes, these are from Mattel & 1:55 scale and not the Disney Store or Disney Theme Parks scale or design.
Like Goofy Mater, Pirate Mater & Lightning Mickey from a few years back, the Theme Park Group decided to use Mattel's molds.
Obviously Stanley is a new sculpt – but the others are just modified Mattel releases – Lightning with an opening hood, Mater with a plastic clock accessory glued onto his carburetor and Lizzie with a a veil and flowers (painted white all over).
So, they asked Mattel to design and manufacture these versions from their "normal" 1:55 diecasts to the look that the Disney Theme Parks group wanted. These are purchased exclusively from Mattel for Disney's Theme Parks. And of course, these are part of the Toons Expanded Universe of CARS diecast.
You can view more photos here.
You can view the Toon here (embed broken or if fixed below).

Time Travel Mater – Cars Toons: Mater's Tall Tales on Disney Video
They are available at the Disneyland store OUTSIDE the park so presumably this is true in Orlando also but drop us a line either way.
*Once again, you can call the 1-877-560-6477 number for Theme Park merchandise. They are only open Monday to Friday so you have to wait until tomorrow to find out if they have it in stock or if it's still coming.
"CARSDriveAllNight" is no man to wait until Monday to find out if he might possibly be able to order them so … ROAD TRIP! Life is a highway!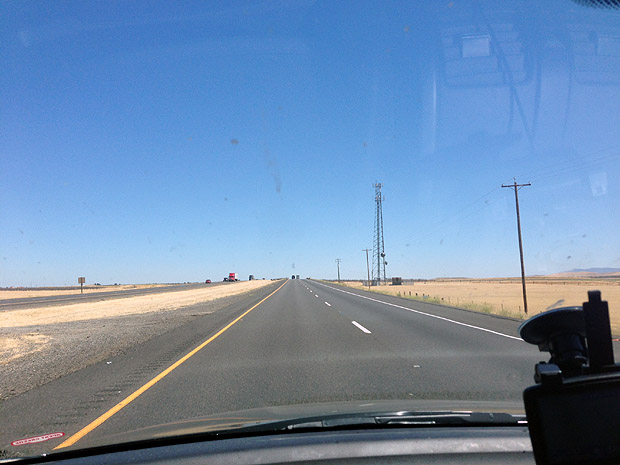 So, let us know if you were successful ordering this on Monday.
BTW, Disney Theme Parks general items are NOT really limited – they will tell you straight out if it's limited like a $300 statue might say 1 of 500 but general items are NOT limited – though Disney will probably just order enough for 2013 so don't panic but don't take too long in deciding. :-/
Good luck!
Thanks for the photos, "Quercy," and "CARSDriveAllNight."
You can read this update post on ordering.


metroxing

23 June 2013

Disney, Disney Pixar, Disney Pixar CARS 3, Mattel Disney Pixar Diecast CARS


14 Comments