Home
»
Food
,
Gadgets
DeLonghi Nespresso Lattissima: Twin Pump Coffee & Milk
Hey, an espresso maker is supposed to sound a little sexy, right?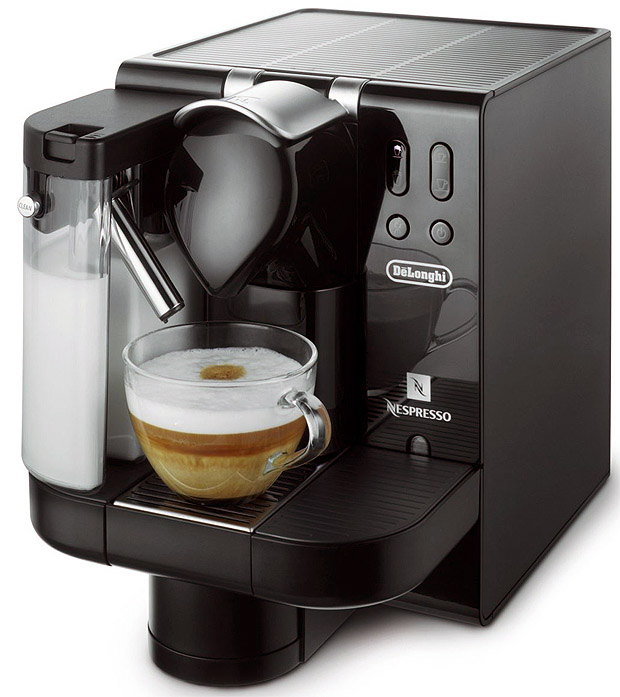 With both functions acting in tandem, the Lattissima delivers perfect cappuccino or latte macchiato in under a minute at the touch of a single button. Nespresso, market and DeLonghi introduces a twin heating and pump system, enabling the Lattissima to eliminate the traditional waiting time between coffee and milk preparation to deliver fresh-from-the-fridge milk froth and premium coffee at high speed.
The one-touch cappuccino system provides the optimal combination of steam, milk and air to create fresh milk froth with perfect consistency. Avoiding the problem of mess encountered with many other espresso machines, an auto-rinsing function also enables you to easily clean the tubes used for milk foam preparation. A new feature for additional convenience is a removable 0.5 litre milk container that can be stored in the fridge, an ideal way to ensure that milk is kept fresh until the next day. The machine also includes an adjustable cup platform that can be pushed back to fit a latte glass and on the Chrome model, the entire top surface of the Nespresso Lattissima offers a generous amount of space for warming cups.
From Amazon – also available in other colors.
Amazon also has a pretty comprehensive page on Espresso.
And if you love the coffee, InspiredM has gathered up some of the best infographic posters about coffee … including this great poster-infographic.
Remember, in Italy, they will drag you into the street if you try and order a cappuccino in the afternoon.


It's Coffee time! Which one do you prefer? by Charming Italy