Home
»
Disney Pixar
,
Disney Pixar CARS 2
,
Mattel Disney Pixar Diecast CARS 2
Mattel Disney Pixar CARS 2 Diecast: Kmart CARS Day #8 TODAY – Don't Be Late!
The most important thing to note for this in-store event is the time is now 9 AM and not 11 AM as it's been for the previous 7 times!!
So, don't be late, mate!
Also, it's likely they made a lot fewer diecasts than last time so in many cases, it might not be as simple as just striding in, picking out everything you and leaving – hopefully that is the case but just in case it's not, it might be closer to the olden days of CARS collecting.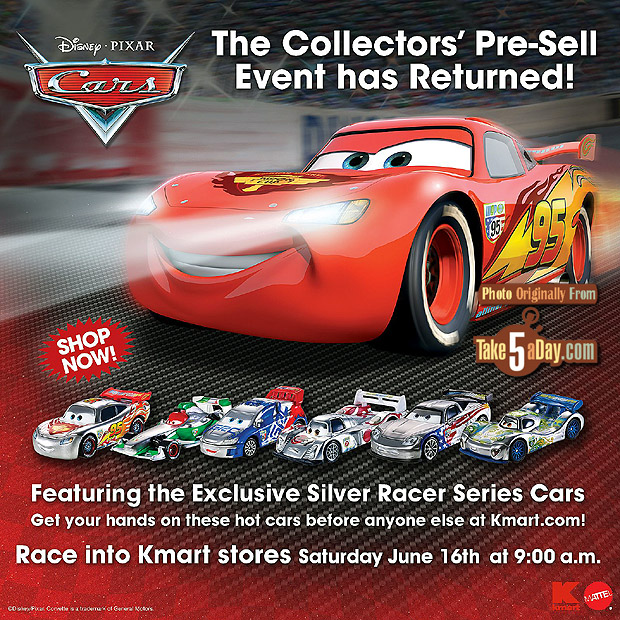 How Does it Work?
Generally around the toy section, they will set up a table – you will also see some people gathered about (from some to hopefully not too many). At around 9 AM, they will begin letting people draw numbers. The rules are that ANYONE who is capable of physically drawing a numbered ticket is eligible to draw … meaning pretty much anyone from the age of 6 month and up … they will then call out numbers randomly from the draw – if your number is called, the will start to cut open a box for you – you are allowed to select up to 5 CARS in the first go around.
Will I get the CARS I want?
See below for checklist of CARS in this case. It all depends on what you are looking for and it will all depend on how many boxes the store receives and how many people are drawing tickets. Now after everyone who has drawn a number has picked their 5, some stores hold additional drawings – other stores just open it up as a free for all.
As noted, this time, there are probably much fewer CARS available in stores so you have to look around. Each master carton contains 4 boxes or 96 CARS so you can divide by 5 (the maximum number you can choose with 1 draw) and the number of people there – if you want all 6 racers and the two exclusive CARS, then obviously you will need two turns at least. Since most people who purchased boxes are going to wind up with extra Lightning McQueen's – it's safe to presume you can buy that later and since there are also 4 Francesco Bernoulli's in each case, that is the second easiest to find. The rest will mostly likely be equally sought after. There is a checklist below listing how many of each CAR are in the case.
Also, note, if you buy 5 racers, the 6th is free.
How early should I go to the event?
OFFICIALLY, they are supposed to draw numbers at 9 AM and in the order of your drawn number. Most KM's probably open at 9 AM but some might be open earlier. Even if there is a queue outside the store, it means nothing as it should depend on the number you draw.
WARNING – there are stores that aren't going to follow the official, guidelines so they might go by when you line up.
Good luck and have fun.

So, drop a note if you attend, how did it go., how were crowds?
Also, they should offer up more cases for sale after the event: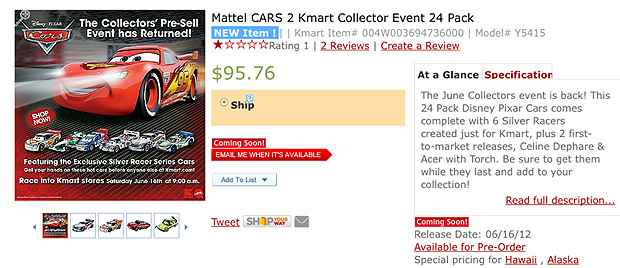 metroxing

16 June 2012

Disney Pixar, Disney Pixar CARS 2, Mattel Disney Pixar Diecast CARS 2


102 Comments