Home
»
Disney Pixar CARS 2
,
Mattel Disney Pixar Diecast CARS 2
Mattel Disney Pixar Kmart CARS Daze Events 2008-2012: If it's Not One Thing, It's One Thing …
Ah, the Mattel Disney Pixar CARS Event Days at Kmart.
From 2008 to Today, we can count on one thing – if it's not one thing, it's one thing.
October 2008. Event #1.
The first was different in a couple aspects. The CARS were not rubber tire CARS and the online sales was NOT even discussed until AFTER the in-store event. Since these were the first time outside of the Motor Speedway of the South set that some of these Piston Cup racers were available and listed as "exclusives,", it was sure to be a big turnout … and it was. Appearing on cards for the first time ever: Shiny Wax (2), Sparemint (2), Sputter Top (3), Transberry Juice (2) & View Zeen (2). for the most part, it seemed to go as well as most Hot Wheels events at Kmart, some minor grumbling here and there but mostly smooth. Maybe the only major hiccup was in a few stores, they held the event at 9 AM and not 11 AM as the sign indicates.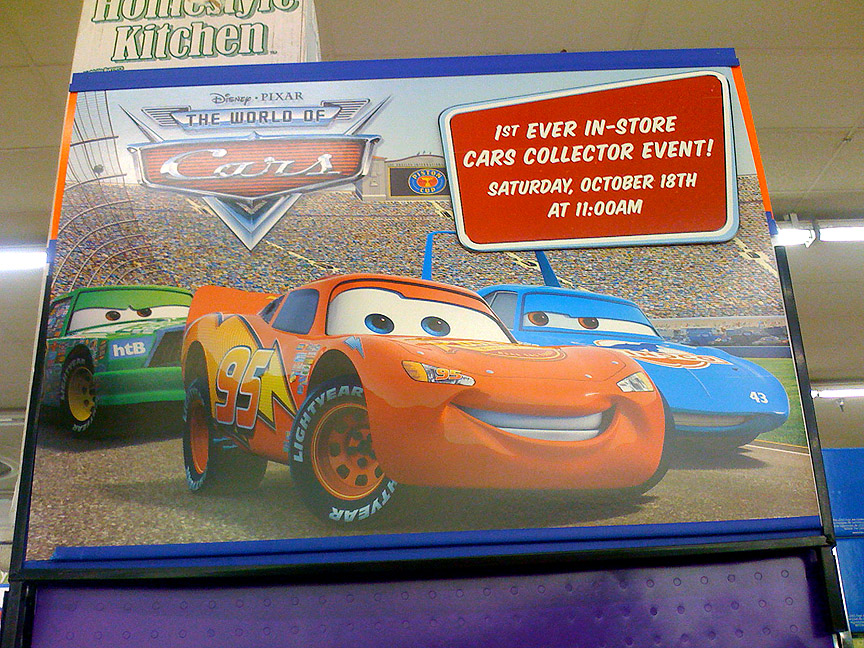 The day after the event on the 19th, they announced that cases would be available online the next Saturday (October 25, 2008). You could sign up for an email to be notified. They actually sent out an email at 2:00 AM (PT) and started selling online and it should out about 8 hours later at around 10:00 AM (PT). Unfortunately, for space reasons, we pretty had to delete all comments prior to 2009 so if there were any major problems, I do not recall. Did it actually go smoothly? Probably since most stores got plenty of cases and you were allowed to pick 5 and there were only 5 racers, most Hot Wheels savvy buyers brought plenty of family members, the online sales were mostly for re-sellers so I don't too many major issues … other than I remember ordering several cases and each one shipped in its own giant box.
June 2009. Event #2.
Saturday, June 20, 2009 -11 AM. First ever rubber tire releases.

The in-store event seemed to go pretty well. A few problems here and there but otherwise, expected when 1,500 retail stores all try and hold an event. It was tougher because there were 9 racers + 3 other vehicles that people wanted so presuming you bought one sealed and one opened, you really needed 24 CARS so people had to do division for the first time in a long time, how many cases versus how many people, shoes were coming off for the count.

So while there were pre-orders, they would not ship until after the event AND the CARS from Day 1 were still selling for sky high prices on the secondary market so interest from casual to collectors to re-sellers were CRAZY. And speaking of crazy …
This was the day at the "free for all," some fat dude scooped up 8 boxes and ran off at my store.
It was a great case.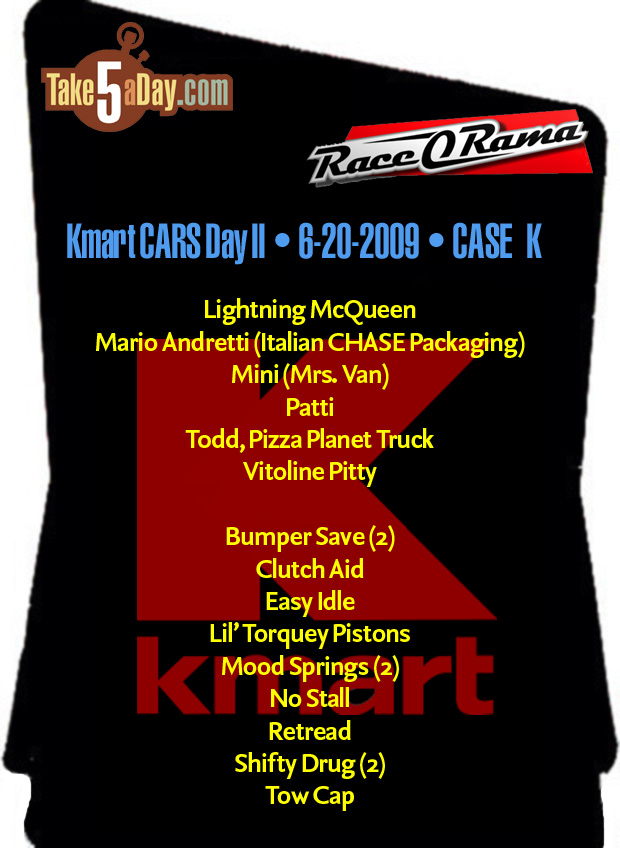 But the online pre-sales had major issues … Up for pre-sale on June 4, 2009 but no emails – sold out on Day 1 but back on Day 2*, this was the CASE with the "bad assortment," that actually required us to set up a Keno like board to spot your bad losing numbers, the canceled orders from using PayPal, you guys crashed the T5 servers, but Dev sent us coupons for a soda. Aye Carumba.
* A little interest in CARS during the Golden Age, there were about 800 comments on the June 4 and June 5 posts.
October 2009. Event #3.
This was perhaps the least popular assortment of all. Leak Less, N20 Cola and Octane Gain fairly easy to obtain as plastic tire CARS, so a rubber tire version was not particularly hot and exciting. While not as easy to find, Re-volting and Vinyl Toupee were not hard to track down. While Rev 'N Go & Trunk Fresh was not yet re-released as launchers or in box sets, they were pretty far down the list of sought after racers. All and all, this assortment did not generate too much excitement.
Case Pre-Sale started October 3rd and there was a coupon. Needless to say, the announced start time for pre orders did not go active until about 15 hours later and international orders could only be placed via email. Though Kmart actually bought an ad on T5 and offered up a coupon! They did have problems shipping – notice saying shipping would not start until October 23rd, 20-days from the pre-sale. And they found more cases to sell on October 23rd.

By now, old hat and with the case heavily packed with Piston Cup racers, many people skipped going to the stores entirely … but some people skipped ordering because there were 5 lenticulars that they were not collecting. Photos from in store shopping day.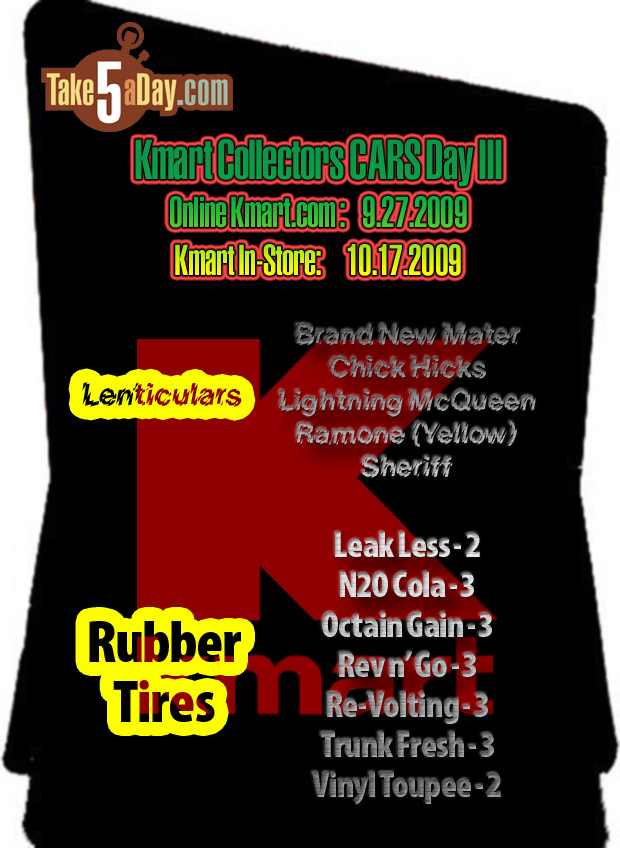 June 2010. Event #4.
Kmart was fully engaged – giving away cases via TakeFive! The Event day was June 12. The Pre-Sale went live May 17, 2010. Once again, it did not launch at the announced time and it took them a while to fix it – then there was a java issue where the popup box was not refreshing so you had to close and reload.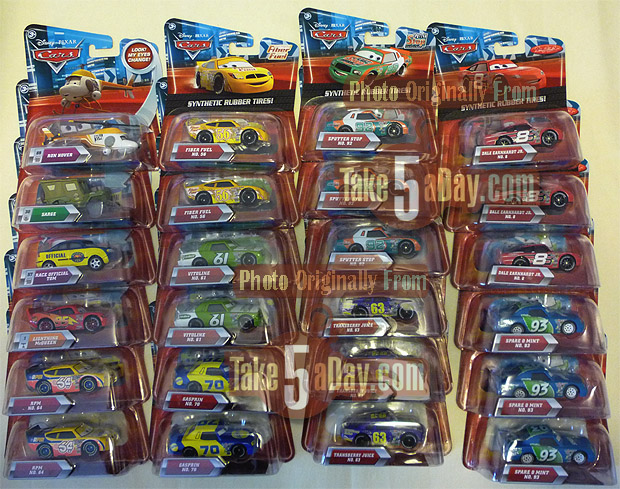 The in store event is now smooth as silk and as we move past the Golden Age, not as populated (but the kids are still as cute). This was the one where the BK Iron Man coupon got you 20% off toys. Thanks Tony Stark!
Kmart CARS Event 5-8 in Part II of this post.


metroxing

10 June 2012

Disney Pixar CARS 2, Mattel Disney Pixar Diecast CARS 2


10 Comments