Home
»
Disney
,
Disney Pixar
,
Disney Pixar CARS 2
Disney Pixar CARS Land: Online Preview …
The CARS Land preview is online …
Plus you can hear Mater sing … which may or may not be a good thing depending on your POV.

Yea, it's real – here's Main Street with lights on.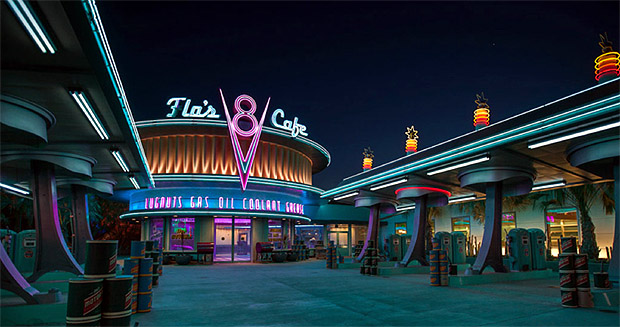 Or Flo's V8 Cafe, very real – not an illustration – you can literally have a meal there. The Disney Food Blog has pics and a preview – looks much tastier than motor oil! 
Flo's V8 Cafe
Boasting "the finest fuel in the 50 states," Flo's caters to the growing number of Route 66 visitors and race fans coming to Radiator Springs, with a "showroom" dining area that overlooks the Radiator Springs Racers attraction. The cafe also is home to Flo's personal memorabilia, collected during her glamorous career as a singer with the Motorama Girls.
Full meals at a quick-service counter, with seats for 300. Open for breakfast, lunch and dinner daily. Inspired by vintage roadside restaurants along historic Route 66, specialties include rotisserie pork loin, citrus turkey and New York strip loin. Signature "veggie-tater bake" is Chef Sean Layne's vegetarian version of classic shepherd's pie.
House-made, single-serving pies include apple-cheddar, strawberry-rhubarb, chocolate mud, blueberry-peach and cherry, created by Disneyland Pastry Chef Jean-Marc Viallet.
Beers served are Racer 5 IPA and Red Rocket Ale from Bear Republic Brewing Co. in Healdsburg, Calif.
California wines by the glass include Fess Parker Riesling, Silverado Chardonnay, Chappellet Mountain Cuvee Cabernet Sauvignon and Eppa Superfruit Red Sangria.
After 5 hours at the park, I know which restaurant I choose.
Cozy Cone Motel
Quick-service, open for breakfast, lunch and dinner daily, with 56 seats outdoors
Inspired by vintage "wigwam" hotels along Route 66, each of the five teepees offers cone-themed treats.
Cone Number 1 offers churro bites with cinnamon-chocolate sauce, cinnamon-spiced hot cocoa and Ramone's Pear of Dice Soda made with dessert pear syrup, mojito syrup and Sprite.
Cone Number 2 features soft-serve ice cream and "route" beer floats.
Cone Number 3 offers savory bites all served in edible bread cones, such as a bacon-scrambled egg cone for breakfast, chicken verde or chili "cone" queso for lunch and dinner. Specialty beverages are Fillmore's Fuelin' Groovy Ades, all-natural lemonade with wild berry foam, or pomegranate limeade with lemon-lime foam.
Cone Number 4 serves pretzel bites with cheesy sauce and Red's Apple Freeze, a fat-free, frozen concoction with apple juice, toasted marshmallow syrup and passion fruit-mango foam.
Cone Number 5 features two flavored popcorns daily, such as dill pickle and sweet & spicy.  Other flavors include bacon and cheddar, nacho cheese, salt and vinegar. Specialty drink is Doc's Wild Grape Tonic (Sprite with wild grape syrup and wild berry foam).
As the story goes, the Cozy Cone Motel becomes home to Sally's Snack Cone-anza when all the fans flock to Radiator Springs for the big races.
Fillmore's Taste-In
Fruit and beverage kiosk with fresh whole and cut fruits, bottled water and juices, and soft drinks.
Radiator Springs' resident hippie, Fillmore, offers a variety of healthy snacks to visitors at his tie-dyed geodesic dome.
Guess we need $100 just to snack at Sally & Fillmore's.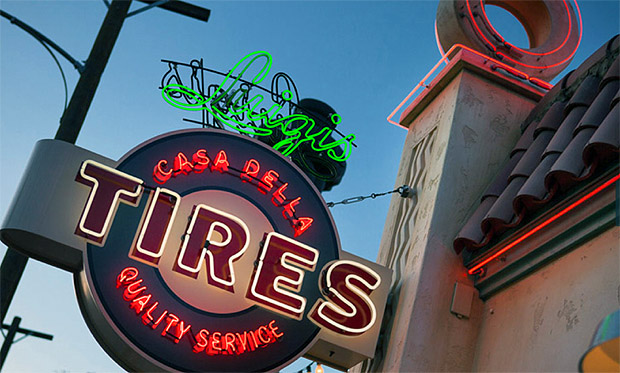 Luigi's Flying Tires ride plus a jungle gym like playground for tykes. Or as the British might say – tikes.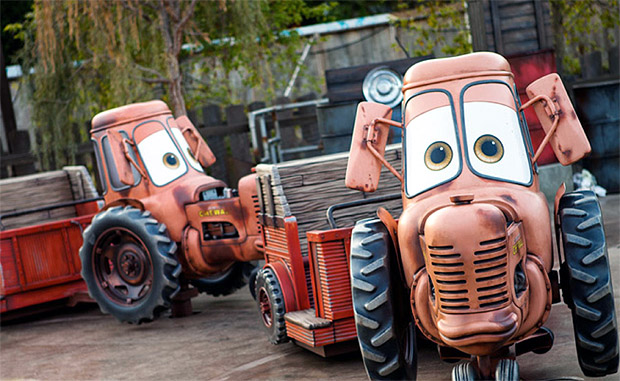 The Tractor Ride
The big kahuna ride.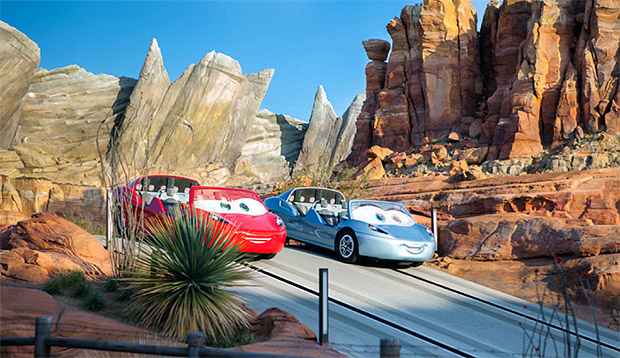 The first diecasts.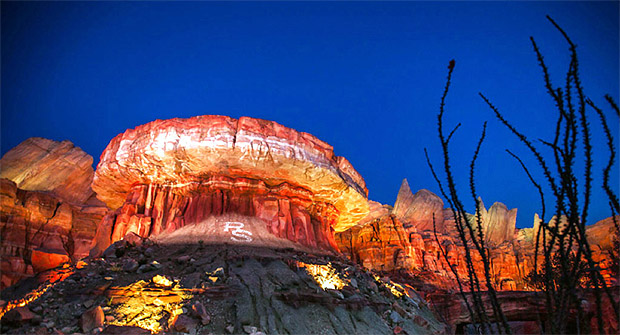 Finally, now we can save a trip to that other Monument Valley (plus you're only 20-feet away from funnel cake, something no dumb national park can promise).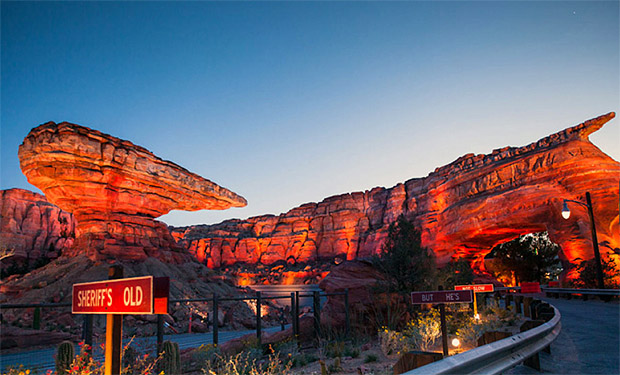 And yes, in CA, we promise you blue skies.
Oh yeah … there will some places you can shop …
"Sarge's Surplus Hut: Named after the Quonset Hut-inspired store owned by Sarge, a World War II Willys Jeep. The real boutique is "Cars"-themed, of course, but tailored for kids, and includes apparel, costumes, hats, toys, plush items and more.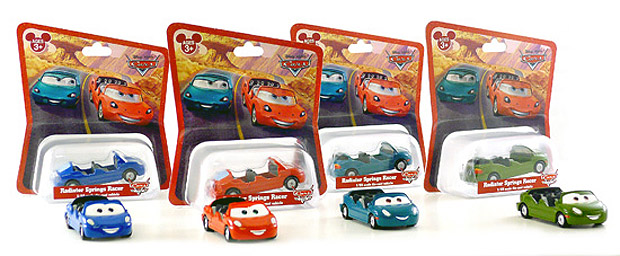 So far, these look like the only diecast available – I'm presuming they are diecasts but they might be plastic.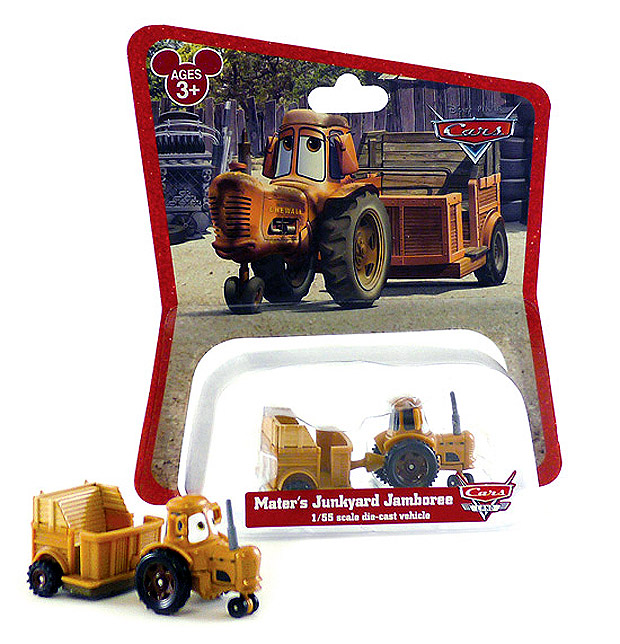 1:55 Scale but looks pretty much all plastic.
Radiator Springs Curios: Named after the shop owned by Lizzie, a 1923 Ford Model T two-door sedan.  The real store features Disney California Adventure park logo merchandise and car accessories, including pins, "Cars"-themed Vinylmation, antenna toppers, window clings, license plate frames, magnets and trading-related items.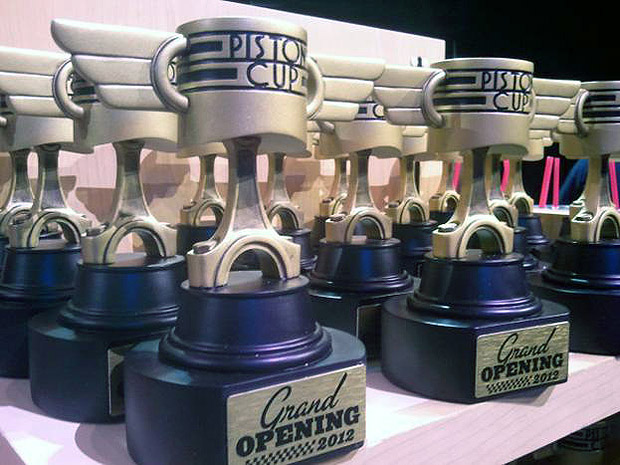 Ramone's House of Body Art: Named after a body paint shop owned by Ramone, the 1959 Chevrolet Impala Lowrider in the first "Cars" movie. The real store at Cars Land is stocked with more "Cars" merchandise, including the Champions Custom Speed Shop, fleece, hats and other car aficionado goods and Radiator Springs Racers attraction items. The Low & Slow tees are named after Ramone's catchphrase."


metroxing

4 June 2012

Disney, Disney Pixar, Disney Pixar CARS 2


10 Comments