Home
»
Disney Pixar CARS 2
,
Mattel Disney Pixar CARS
Mattel Disney Pixar CARS: Micro Drifters Actually Released!
It seemed to be touch & go there for a while but Micro Drifters have actually been released – TRU has the Mack Carrying Case online and has the 3-pack singles listed but not available online – in stores only.
My local TRU does not have them in yet – Thursday? So, drop us a line if and when you see them.
It will be interesting to see what kind of commitment retailers are going to make for this lineup. Toys R Us will pretty much sell anything if you ask and/or grant them better terms – Target seems likely to carry them as they seem to have exclusives coming at Christmas time but will this line last that long? Walmart is the big unknown. Let us know if you spot any at WM.
These look like the first 3-packs to be released … $6.99 at TRU but I think $5.99 elsewhere.
Lightning, Spare Mint (not Spare O Mint to the late comers) and Octane Gain.*

Professor Z, Grem & Finn McMissile

Lightning McQueen, Chick Hicks and Clutch Aid

Plus these 3-packs:
Gold Lightning McQueen, Holley & Acer
Nigel Gearsley, Jeff Gorvette & Francesco Bernoulli
Lightning McQueen, Raoul Caroule & Mater
(you can see the rest in this Mack carrying case)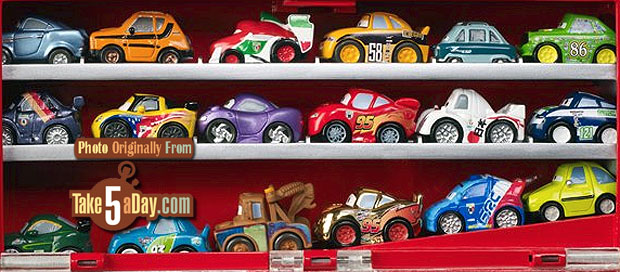 The first case comes 24 to a case (of the 3-packs) so 4 of each in CASE A? (or more likely these 6 3-packs are available in a mix in CASE A & B).
* You'll notice the Octane Gain in the Mack is the correct orange color.


metroxing

30 May 2012

Disney Pixar CARS 2, Mattel Disney Pixar CARS


8 Comments