Home
»
Mattel Disney Pixar CARS
Mattel Disney Pixar Diecast CARS: Because It's Never Enough – So, We Make Our Own Customs!
Okay, not me personally but a roundup of the customs from some of the great 3D artists out there  …
Aroldo Pongetti says, don't forget the launcher to go with the Apple Team.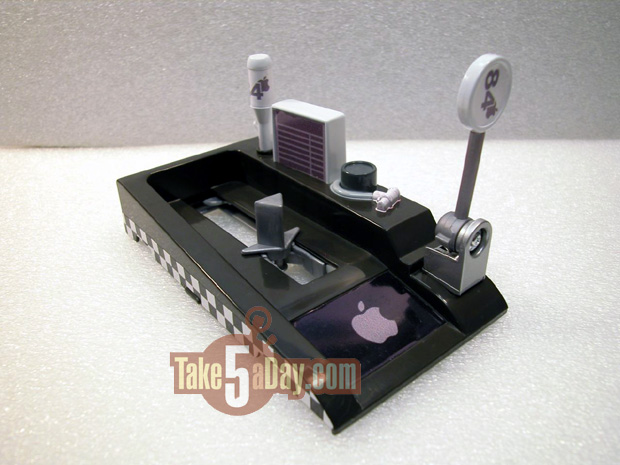 Sadly, I don't think an official one will be coming soon …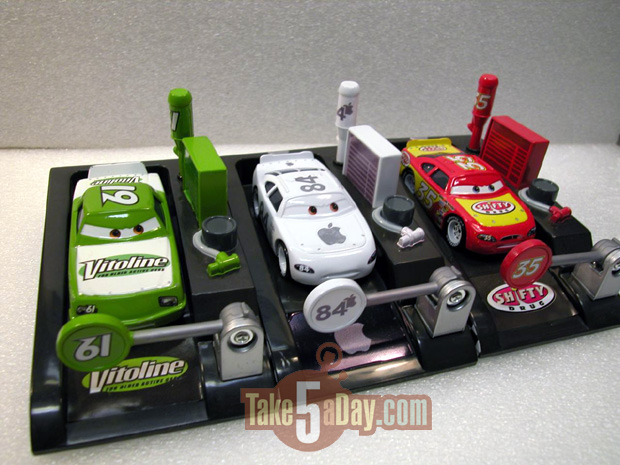 And over here in the US, customizer Richard Eckel has been BUSY – seriously!
This was way before the Mater Tall Tales had come out (takes a while to work through the photo submission backlog) but created his own Mater as ambulance!
And of course, a sweet looking chrome Sally as Chief …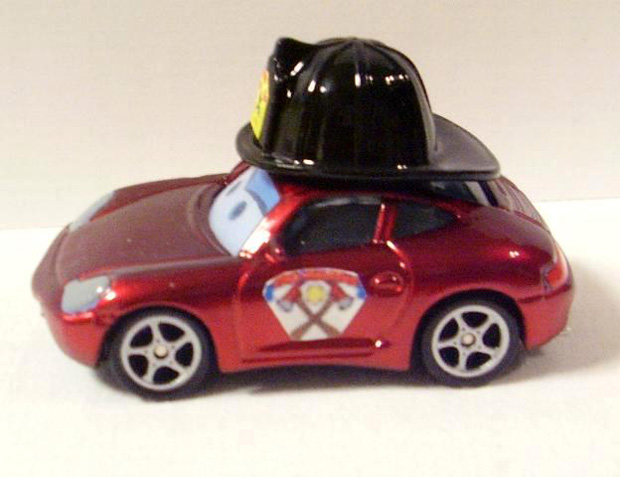 And a nice diorama …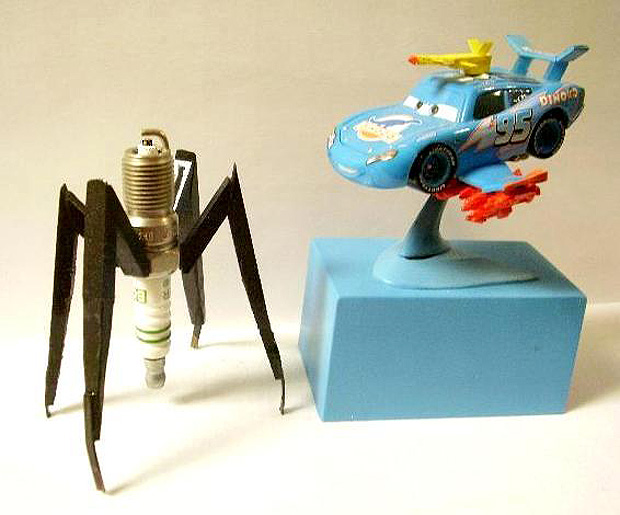 But now he's out done himself … check out his latest customs!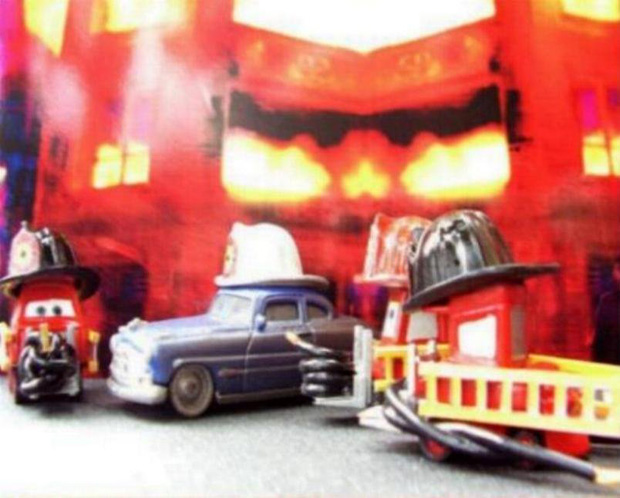 PERFECT!
Every two year old knows that fire fighters always show up with a ladder, no small the vehicle and always with protective gear … NICELY DONE!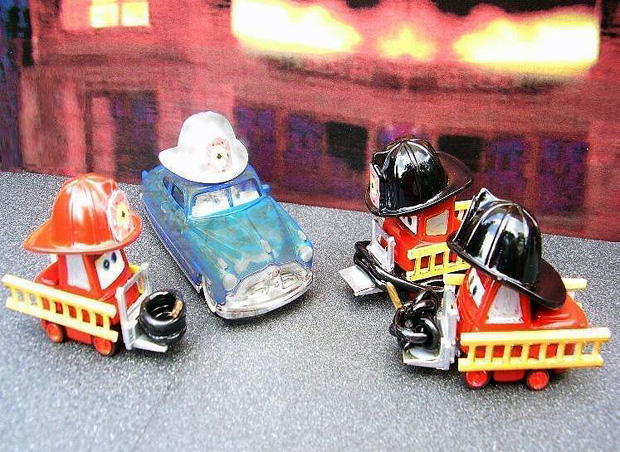 COOL, FUNNY and ARTISTIC – NICE! … though Doc looks like he didn't really volunteer to test out if the new primer was flammable or inflammable … Mater can never get it straight.
Robert gave them names but let's just say *some-many-all* of T5 readers will not be able to resist themselves in regards to the nicknames regarding hose length so in the name of all that holy in MET:EDIT land, please make and keep your hose name jokes to yourselves :-0
And all Packer fans, you might want to avert your eyes …
And Joey R. sends along this MINI MSOS …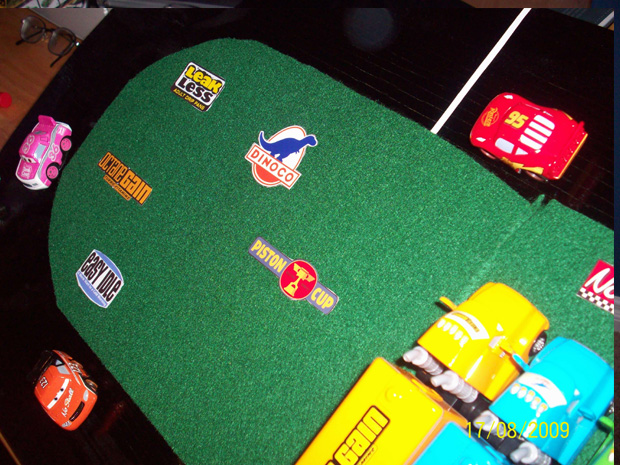 And Kevin Roche is starting work on his/your custom Apple CAR …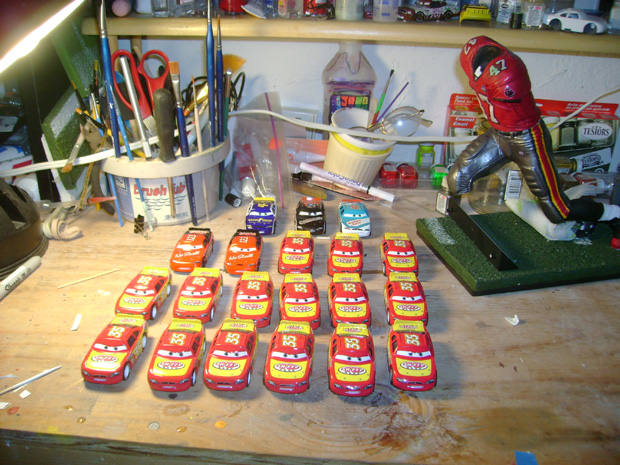 Of course, it's easy getting SHIFTY DRUG to take some of that sodium silicate … after all, how could SHIFTY DRUG turn down a turn down a liquid pill?
What is it?
It's got your sponsor logo on it – drink it.
Glug, glug, glug, glug … I think I'm seeing double. I was promised I would not be lenticular … you inglorious … why are we all lined up? Why is there all this white paint? Why am I sleepy? Why is there a headless defensive back? I was big once, I was a Kmart CAR …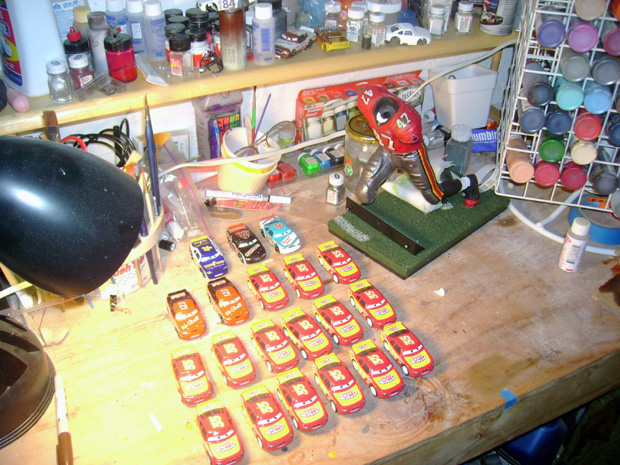 What is thy bidding, master?
Build a clone army of Mac iCar's to rule the known sequel universe?
But first, master the art of Tach O Mint cloning – then let's talk …



metroxing

22 August 2009

Mattel Disney Pixar CARS


21 Comments