Article Archive for 6 July 2009

Mattel Disney Pixar Diecast CARS: More, More, More Box Sets
Posted in
diecast
,
Mattel Disney Pixar CARS
,
Retail
on 6 July 2009
Stats: and
19 Comments
In addition to the 4-packs of Racers and the Crew Chiefs & Pitty's box set, there is also a 9-pack coming … most likely a pallet for WM or for one of the warehouse clubs like this 10-pack from 2007 that was a Sam's Club exclusive. What will be on it? In it? A chance [...]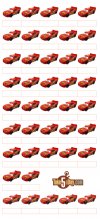 Mattel Disney Pixar Diecast CARS: I Can Haz McQueen's?
Posted in
diecast
,
Mattel Disney Pixar CARS
on 6 July 2009
Stats: and
49 Comments
Who wants to work after a long holiday weekend of fireworks going off in your pants, deep fried pork products and cevezas knocked back with beer … sure, you can engage your brain on that surgery thing or whether the orange button releases the 8-ton metal tube or aligns it correctly? But why waste your [...]