Home
»
Advertising
,
CARS
,
collecting
,
Design
,
Disney Pixar
,
Film
,
Financial
,
Internet
,
Marketing
,
Mattel
,
Toys
,
TV
,
Video Games
Mattel Disney Pixar Cars: Online World Coming … "World of Cars.com"
From Last March …
"Disney Eyes More Online Investment
The Walt Disney Co. will invest more in online games and virtual worlds following the success of sites with themes based on Disney Fairies and "Pirates of the Caribbean."
In 2008, the company will launch an online game site based on the Disney/Pixar film "Cars," Disney President and CEO Robert Iger said Nov. 29 during the Sanford C. Bernstein & Co. Long View Conference.
In August, Disney acquired Club Penguin, a virtual world site with more than 700,000 paid subscribers.
Disney is going to invest "substantially" in these types of sites over the next few years because of their potential and fitting in with the rise of the home computer as an entertainment medium, Iger said.
The sites are also helpful in growing and maintaining interest in Disney film franchises, Iger said.
For instance in the absence of a sequel for "Cars" or while
waiting for a sequel, the new virtual world site based on the film will
continue to make the characters and setting relevant and in front ofmillions of people around the world, Iger said.
"You can live with and act with Lightning McQueen for years to come," Iger added."
And we hadn't heard much since then but it's looking like it will be at www.worldofcars.com …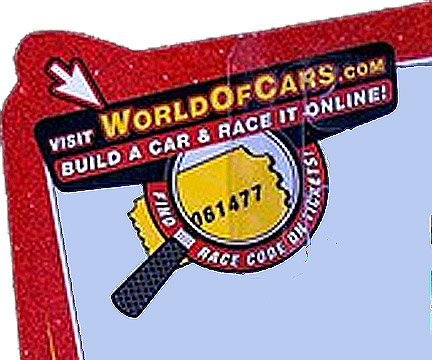 It's because of Disney, Mattel is not retiring "World of Cars" – instead to keep the branding & tie-in alive, and while there is a new card design – it's still under the World of Cars umbrella.
The website is NOT active yet but it's definitely registered to Disney … and if not 2008, then early 2009.
(FROM WHOIS)
Registrant:
Disney Enterprises, Inc.
500 S. Buena Vista Street
Burbank, CA 91521
US
Domain name: WORLDOFCARS.COM
Administrative Contact:
Enterprises, Inc., Disney  wdigdomainreg@dig.com
500 S. Buena Vista Street
Burbank, CA 91521
US
+1.8186233200
So, who will you be online?



metroxing

15 September 2008

Advertising, CARS, collecting, Design, Disney Pixar, Film, Financial, Internet, Marketing, Mattel, Toys, TV, Video Games


No Comment